Helping Refugees to Start Studying
DAAD supports workshops and a coordination office in Freiburg
Freiburg, Jan 10, 2019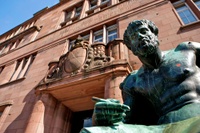 Photo: Peter Mesenholl
The German Academic Exchange Service (DAAD) has approved the University of Freiburg's application to join the program "Integra – Integration of refugees into the study course". With this, the DAAD is supporting the continuation of a coordination office by the Freiburg-Black Forest Student Council (SWFR, Studierendenwerk Freiburg-Schwarzwald) and the organization of workshops at the University in the period early January 2019 to end of March 2020, with a total of 53,000 euro. "The DAAD funding enables us to provide services specially designed for this target group and thus make a significant improvement to the integration of refugees within the university as well as society," says Prof. Dr. Juliane Besters-Dilger, Vice President for Academic Affairs at the University of Freiburg.
The SWFR has had a coordination office focusing on refugees and studies since 2016. Its role is to network all the relevant regional stakeholders, advise refugees on all aspects of studying, and provide information, which it does in particular on its website and in a special SWFR newsletter. In addition to this, it handles coordination activities and exchanging information – for instance, with job centers, migration advice services, social bodies and other agencies, or with voluntary and student initiatives to assist refugees. Since 1 July 2018 Laura Schmid has been entrusted with these duties as Coordinator at SWFR.
Refugees who are studying or interested in studying have a particularly high need for information, explanations and guidance, "As a rule – unlike international students – they didn't come to Germany intentionally and with a clear plan of studies, and instead, because of their flight from their home country, face the challenge of having to reorient themselves completely," says Besters-Dilger. For this reason, in the 2019 summer semester and 2019/20 winter semester, the University of Freiburg together with the SWFR will each be offering five workshops on a variety of subjects for students with a refugee background and refugees who are interested in studying. In addition to this, there will be a workshop at the Department of Ethnology offering an introduction to the academic culture of the University. The aim is to familiarize participants with amongst other things the process of academic work, teaching and learning techniques, day-to-day life at the University, the student advice services, study finance and preparing to enter working life.

Contact:
Prof. Dr. Juliane Besters-Dilger
Vice President for Academic Affairs
University of Freiburg
Tel.: +49 761 203-6971
prorektorin.lehre@uni-freiburg.de

Renate Heyberger
Deputy Managing Director/Head of the Press Office
Studierendenwerk Freiburg-Schwarzwald
Tel.: +49 761 210-1214
heyberger@swfr.de