Focus on Plovdiv, European Capital of Culture
The first "Bulgarische Kulturtage" (Bulgarian Culture Days) begin May 27, 2019, at the University of Freiburg
Freiburg, May 20, 2019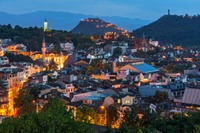 Plovdiv, European Capital of Culture 2019. Photo: Stoyan Haytov – www.stock.adobe.com
The University of Freiburg will be hosting the first "Bulgarische Kulturtage" (Bulgarian Culture Days) this year. The five-day event May 27–31 will celebrate Plovdiv, this year's European Capital of Culture, with a presentation of the city, lectures about contemporary Bulgarian literature, and a Bulgarian festival held in the Vauban district of Freiburg. "For many people, Bulgaria and its culture are still considered an inside tip in Europe. Too little is known about this fascinating country," says Prof. Dr. Elisabeth Cheauré, a professor at the Department of Slavic Languages and Literature at the University of Freiburg and head organizer of the cultural event.
Plovdiv is the second largest city in Bulgaria and one of the oldest cities in Europe. Steeped in rich history and traditions, Plovdiv has a modern and creative urban environment ideal for artists and cultural producers. At the Bulgarian Culture Days in Freiburg, representatives and culturally active citizens from Plovdiv will be presenting both the city and contemporary Bulgarian culture. Dr. Mariana Cholakova, who is the Honorary Consul of the Federal Republic of Germany in Plovdiv, will talk about the cultural program of the 2019 European Capital of Culture at the opening ceremony on Monday, May 27, at 7 p.m. in the events room of the University Library (Veranstaltungssaal der Universitätsbibliothek).
The highlight of the event will be a reading by the author Georgi Gospodinov on Tuesday, May 28, starting at 7 p.m., at Literaturhaus Freiburg. Gospodinov is one of the most internationally recognized Bulgarian authors, and his books have been translated into more than 25 languages. He is currently an artist in residence at the Literaturhaus in Zurich, Switzerland. The Bulgarian Culture Days will end with a Bulgarian festival on Friday, May 31, starting at 9 p.m. in the community center in the Vauban district of Freiburg. Other events will include lectures about the visual art, literature, and cultural policies of Bulgaria.
The "Bulgarische Kulturtage" (Bulgarian Culture Days) are open to everyone. All events are free and no registration is required.
For more information about the program, please visit