Educational Opportunities, Nietzsche and the Archaeology of Freiburg
The Studium Generale introduces its program for the 2019/2020 winter semester
Freiburg, Oct 14, 2019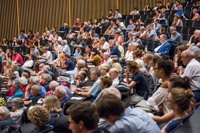 Every semester, a wide range of offers attracts many interested people to lecture halls and seminar rooms. Photo: Klaus Polkowski
In the 2019/2020 winter semester the University of Freiburg's Studium Generale is once again putting on a range of lecture series, panel discussions, readings, concerts and courses offering students, teachers and members of the public an interdisciplinary insight into various fields of knowledge.
This winter, the Saturday Uni will be looking at questions such as "What does education mean today?" "What ideas and cultural convictions are at work in this concept?" "What is the state of educational opportunities in Germany?" Speakers such as Aleida Assmann, last year winner of the Peace Prize of the German Book Trade, Jürgen Kaube, publisher of the Frankfurter Allgemeine Zeitung, and Prof. Dr. Peter-André Alt, President of the German Rectors' Conference, will be answering these and other questions. Events will begin on Saturday 26 October 2019, at 11:15 with the lecture "Bildung im Wissenschaftszeitalter: Die Vorsokratiker und die moderne Physik" (Education in the scientific age: the pre-Socratics and modern physics) by Prof. Dr. Josef Honerkamp from the University of Freiburg's Institute of Physics.
Some familiar Studium Generale lecture series will also be returning this winter semester, including the dialogue format "Bücher, über die man spricht" (Books people talk about) and "Gespräche über aktuelle Inszenierungen" (Discussing contemporary staging). In addition the program will include new opportunities to broaden horizons and gain insight into different specializations. For instance, the "Nietzsches Philosophien" (Nietzsche's philosophies) lecture series considers the thoughts of Friedrich Nietzsche, his interaction with other philosophers and his influence on the modern age from different perspectives. And in the "freiburg.archäologie" (Freiburg archaeology) series, which will be held in cooperation with Baden-Württemberg's museums and the state office for the preservation of monuments in parallel with an exhibition of the same name, enthusiasts can join in with the 900th anniversary of the city and enter into a dialogue with experts in the archaeology of Freiburg.
At the same time, with its individual lectures and lecture series, panel discussions, debates, film series and guided tours, the sister program Colloquium Politicum will also offer plenty of opportunity to consider fundamental questions of German and international politics as well as contemporary economic and social problems.

Program of the Studium Generale
Program of the Colloquium Politicum