Creativity to the 15th degree
An exhibition in the University Library shows the best entries from the "Connecting Creative Minds" photo competition
Freiburg, Mar 14, 2019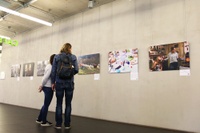 Photo: Sandra Meyndt
Creative Minds are the people at the University of Freiburg: researchers, teachers, students, employees in administration and technology. They are the focus of the University's future strategy entitled "Connecting Creative Minds - Trinational, European, Global." But what exactly does creativity mean at the University of Freiburg? The photo competition "Connecting Creative Minds" has invited all members of the University to address the topic of creativity and to show in an artistic way where they experience or wish to experience creativity at the University. The 15 best entries will be shown in an exhibition starting March 14, 2019 in the foyer of the University Library Freiburg (UB). The selected photos illustrate how creativity at the University of Freiburg already has many facets.
All visitors to the exhibition can vote online for the public's favorites. Interested parties can simply scan the QR code at the bottom of the pictures or vote at www.uni-freiburg.de/go/photocompetition-voting. You can also vote on Facebook under www.facebook.com/unifreiburg and in the exhibition by postcard and voting box. The University will raffle off hoodies, thermal cups and shoulder bags from the uni'shop to voters. The photograph that receives the most public votes will be awarded 150 euros.
The jury - consisting of Prof. Dr. Robin Curtis, Media Culture Studies, Dr. Franz Leithold, Director of the Media Centre at the University Library, Sandra Meyndt, Department of Public Relations, Klaus Polkowski, freelance photographer, and Janos Ruf, archaeology student - made the selection for the photo exhibition from all almost 100 entries submitted and will also award prizes to the three best photographs. The photographers will receive 500 euros for first place, 250 euros for second and 100 euros for third. The award ceremony will take place in the 2019 summer semester at the "Create!" event at which several university groups will artistically address the topic of creativity.
The exhibition can be seen during the UB's usual opening hours and is aimed at all interested parties. The explanatory texts are available in German and English. Admission is free. No registration is required.
For more information about the competition