An app for wild visitors
Report observations of wild animals in towns and villages directly via smartphone
Freiburg, Jan 16, 2019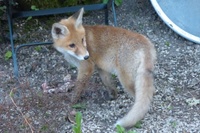 A fox cub in a residential area. Photo: Sina Plenker / wildenachbarn.de
Foxes on terraces, deer in the garden, grey heron on the riverbank and dormice under the roof: Over 470 observations of wild animals were reported by citizens last year via the web portal www.bw.wildenachbarn.de. From now on, users can also register such sightings in towns and villages directly on site via an app, which makes it possible to upload images, videos or sound recordings immediately or to save them for later transfer to the portal.
"Wild Neighbors" is part of the project "Wild Animals in the Residential Area of Baden-Württemberg" funded by the Ministry of Rural Affairs and Consumer Protection and executed by the University of Freiburg's Chair of Wildlife Ecology and Wildlife Management. The web portal is maintained in cooperation with the association StadtNatur.
The wildlife app is supported by iOS and Android operating systems and is available for a free download at the Apple App Store and Google Play. Web portal users can also use their login data for the app. Interested citizens who do not yet have a user account can register on the portal at any time.
The data obtained from sightings provide researchers with a picture of the distribution of the individual animal species over the settlement area. This enables researchers to draw conclusions about places where encounters between humans and wild animals are particularly frequent, which can be useful knowledge for future wildlife management in order to prevent conflicts. www.bw.wildenachbarn.de