4.5 million euros for programmable materials
Carl Zeiss Foundation supports new research cluster at the University of Freiburg in the 2019 "Breakthroughs" program line
Freiburg, Nov 18, 2019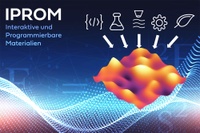 The Carl Zeiss Foundation has selected the research cluster "Interactive and Programmable Materials" (IPROM) of the University of Freiburg's for its "Breakthroughs 2019" program line. Over the next five years, the cluster will receive funding of 4.5 million euros for the development of innovative technical materials that respond in a set way to changing environmental conditions and thus adapt to these conditions. The project's spokepersons are Prof. Dr. Jürgen Rühe, Director of the Freiburg Center for Interactive Materials and Bioinspired Technologies (FIT), and Prof. Dr. Bastian E. Rapp from the Department of Microsystems Engineering (IMTEK) at the University of Freiburg.
"We are delighted that our concept "Interactive and Programmable Materials" has been selected. The funding from the Carl Zeiss Foundation will strengthen our materials research and help us to push ahead with our vision of totally innovative materials systems," says Rühe.
Programmable materials are triggered by external stimuli, such as a change in temperature or light exposure, and can rapidly change their internal structure or outer form. The researchers draw on biological materials which over millennia have learned to adapt to their environment as inspiration for the development of these materials. Materials with adaptive characteristics like those being developed in the project enable innovative applications, for instance in the field of intelligent optical elements, medical prostheses, robotics, fiber optic systems or interactive architectural components.
In general, friction turns kinetic energy into useless waste heat and causes components to wear. At IPROM scientists are developing, among other things, innovative materials which are capable of switching freely from sliding to sticking and back again. Other materials will enable controlled release of drugs, provide light sources with locally-controllable illumination of areas, or interactively change their mechanical characteristics such as their ability to bend or enhance their tensile strength under heavy loads.
The cluster will use new 3D printing methods, so that the desired form or characteristics of the material are already set in the design phase and then triggered later by the stimulus. This process is also known as 4D printing. It requires an approach that ranges in structural size from molecular to macroscopic. So researchers from the fields of chemistry, physics, biology and engineering sciences are working jointly on these materials.
The IPROM cluster strengthens the University of Freiburg's "Functional, bioinspired materials" cluster, and broadens the research at the "Living, Adaptive and Energy-autonomous Materials Systems" (livMatS) Cluster of Excellence.
About the Carl Zeiss Foundation
The Carl Zeiss Foundation's mission is to create an open environment for scientific breakthroughs. As a partner of excellence in science, it supports basic research as well as applied sciences in the MINT subject areas (mathematics, information technology, natural sciences and technical disciplines). Founded in 1889 by the physicist and mathematician Ernst Abbe, the Carl Zeiss Foundation is the oldest private science funding institution in Germany. It is the sole owner of Carl Zeiss AG and SCHOTT AG. Its projects are financed from the dividend distributions of the two foundation companies.
Contact:
Prof. Dr. Jürgen Rühe
Freiburg Center for Interactive Materials and Bioinspired Technologies (FIT)
University of Freiburg
Tel.: +49 761 203-7160
ruehe@imtek.uni-freiburg.de