Sustainable Systems Engineering
New Bachelor's Engineering degree program and taster semester in the Faculty of Engineering
Freiburg, Aug 09, 2018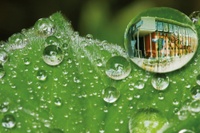 Photo: Uni Freiburg, INATECH
How can renewable energy be generated, fed into the electricity grid and stored? How can digital communication be more energy-efficient and secure? How can materials and systems be optimally adapted to cope with difficult environmental conditions or catastrophes? These and other questions are the subject of the Nachhaltige Technische Systeme / Sustainable Systems Engineering Bachelor's degree program, which starts this 2018/2019 winter semester at the University of Freiburg.
"In the degree we combine technology with sustainability and educate engineers who consider ecological, economic and social questions in the development of technical systems," academic dean Prof. Dr. Oliver Ambacher sums up. Over the first four semesters, lectures, practical sessions and seminars convey the principles and methods of engineering science. Subject areas include physics and materials technology, mathematics and system engineering, electronics and energy technology, chemistry and process technology, as well as society and technology.
Drawing on this, the degree program then continues in the next two semesters with the methodical and specialized consolidation of aspects of sustainable development from an engineering science perspective: energy systems using renewable energy, resilience – that is the ability of systems to withstand and adapt to accidents or environmental catastrophes – and sustainable materials. As well as the specialized courses, students can also attend courses on simulation technology, lifespan analysis and programming languages.
Teaching is in German, and on some of the electives English. The degree program does not require formal approval, so no application is necessary if German university admission has been granted, and it is possible to register directly.
Also in the winter semester the Faculty of Engineering is changing the curricula for its Bachelor's Engineering degree programs Microsystems Engineering, Embedded Systems Engineering and Nachhaltige Technische Systeme / Sustainable Systems Engineering: the first semester will now be identically structured. This taster semester offers new students the opportunity to learn about their chosen discipline and then if necessary to switch to one of the other degree programs without extending their period of studies.
More information
http://www.tf.uni-freiburg.de/de/studienangebot
http://www.tf.uni-freiburg.de/de/studienangebot/einstiegssemester