Looking outside the box and sharpening one's own profile
The online vacation program from the Center for Key Qualifications starts on July 2, 2018
Freiburg, Jun 25, 2018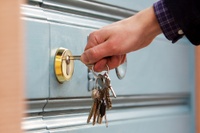 Photo: Baschi Bender
The Center for Key Qualifications (ZfS) at the University of Freiburg is offering students sessions in the areas of management, communications, media and computing during the summer break. The online program for bachelor's candidates and law students begins on July 2, 2018. The program invites participants to think outside the box and ask questions.
In the management area, students in the session "Occupational Field of Cultural Management" will address the current art and cultural scene and will become acquainted with the versatility of cultural management. Students will critically examine notions of sustainability presented in the session "Forward-Looking or Greenwashing? Sustainability Management in Enterprises."
In the field of communication, students will learn how to strengthen their own judgment by dealing with ethical problems  in the session "Acting Responsibly - What Does That Mean? Ethical Issues in Everyday Life and Work." In the session "Performance and Presentation - Bodywork, Choreography and Theater," they will practice deepening their self-perception and using it for professionally relevant situations.
How do you make professional video clips, for example, for YouTube or Instagram? In the area of media, students will learn how to produce and evaluate video contributions in the session "Fundamentals of TV journalism." In "Public Relations with Social Media," they will analyze communication goals in social networks and their effects - a competence that is also important for assessing media information.
The session "Statistics for Scientists" in the field of computing trains students for analytical thinking and statistical understanding. "Basics of data analysis using the example of SPSS" familiarizes them with the collection and analysis of data with the statistics program SPSS, which are important prerequisites for empirical thesis work.
Those who have time for a voluntary summer internship can take the module "internship plus." It offers the opportunity to gain direct insights into occupational fields, to better assess one's own competencies and to formulate clearer career goals.
Session program and more information