How a genetic mutation can interfere with the powerhouses of cells
A Freiburg molecular medicine specialist's team discovers a new disease mechanism in the mitochondria
Freiburg, Mar 23, 2018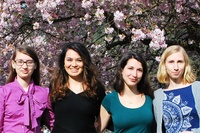 Patrycja Mulica, Cansu Kücükköse and Lisa Myketin (l to r) are members of Nora Vögtle's (right) work group at the Institute of Biochemistry and Molecular Medicine. Photo: Private
Dr. Nora Vögtle, head of an Emmy Noether junior research group at the Institute of Biochemistry and Molecular Medicine of the University of Freiburg, together with her team and in cooperation with paediatricians from Europe, Australia and the USA, has identified the molecular consequences of a previously undefined genetic mutation. This mutation interferes with the functioning of the mitochondria, known as the powerhouses of cells. It usually occurs following what would normally be a harmless infection in early childhood, leading to a severe disease and subsequently to the brain no longer being able to maintain control of key bodily functions, including motor functions. The researchers have published their study in the American Journal of Human Genetics.
Mitochondria are organelles that occur in higher cells and perform a variety of functions. They are best known for converting the energy stored in food into energy which can be used for cellular biochemical reactions. However they are also responsible for the production of many metabolic products and cofactors that are needed for the functioning of many enzymes. So, if something goes wrong with them, diseases can occur. Defective mitochondria lead above all to diseases of tissues and organs that demand high levels of energy. Therefore they often affect the nervous system, the heart or the skeletal muscles.
Genetic analysis of the genome of affected patients and their families from three different continents showed that a specific gene was always changed by an inherited mutation. This gene supplies the blueprint for a protein that is needed in the mitochondria. Here, this protein removes signal attachments, known as presequences, which are needed to import most of the mitochondrial proteins from the cell fluid. Therefore, it is termed as Mitochondrial Presequence Protease (MPP).
In her work at the interface of fundamental research and medicine, Vögtle and her team showed that the genetic change in the MPP gene leads to a protein with impaired functioning. It is no longer able to cleave the presequences efficiently, resulting in accumulation of immature proteins in the mitochondria. This can lead to interference with many mitochondrial functions. For parts of her study, Vögtle used baker's yeast as a model organism. In the yeast MPP, which is related to the human gene, her team introduced the same disease-causing mutations and studied the resulting consequences on the work processes in the mitochondria.
"Sadly we have not yet been able to save any of the sick children with our findings," says Vögtle, adding, "However without this fundamental explanation of pathological mechanisms no therapeutic approaches could be developed. We hope that our work will lead to the development of effective therapies in the long term."
Original publication:
Nora Vögtle*, Björn Brändl, Austin Larson, Manuela Pendziwiat, Marisa Friederich, Susan White, Alice Basinger, Cansu Kücükköse, Hiltrud Muhle, Johanna Jähn, Oliver Keminer, Katherine Helbig, Carolyn Delto, Lisa Myketin, Dirk Mossmann, Nils Burger, Noriko Miyake, Audrey Burnett, Andreas van Baalen, Mark Lovell, Naomichi Matsumoto, Maie Walsh, Hung-Chun Yu, Deepali Shinde, Ulrich Stephani, Johan Van Hove, Franz-Josef Müller, Ingo Helbig* Mutations in PMPCB Encoding the Catalytic Subunit of the Mitochondrial Presequence Protease Cause Neurodegeneration in Early Childhood. In: American Journal of Human Genetics. Published online March 22.
* Corresponding authors