Freiburg is one of the top-ranking universities worldwide
The 2018 Shanghai Ranking certifies that the University of Freiburg has a leading position in Germany and internationally
Freiburg, Aug 28, 2018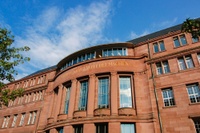 Photo: Sandra Meyndt
The Academic Ranking of World Universities, also known as the Shanghai Ranking, has just released its ranking list for 2018. The University of Freiburg is ranked fifth among German comprehensive universities. At the state level, it has maintained its leading position over the past few years and is, after Heidelberg, the most highly regarded university in Baden-Württemberg. Freiburg is ranked 101 to 150 out of a total of 500 universities worldwide. The Shanghai ranking does not afford a further breakdown.
In the expert category 'Dentistry and Oral Sciences' Freiburg takes first place amongst all German universities and is among the best 75 worldwide in both this category as well as in the category 'Medical Technology'. In the expert categories 'Ecology', 'Water Resources', 'Human Biological Sciences' and 'Agricultural Sciences', the University of Freiburg is in the Top 100 internationally. "These rankings illustrate the worldwide visibility and significance of our scientists, who make Freiburg a highly attractive location for pioneering research and teaching," says Rector Prof. Dr. Hans-Jochen Schiewer. "The result of this prestigious ranking serves both as praise and as an incentive for us."
The Chinese Shanghai Jiao Tong University has compared various universities' success in the area of research since 2003 with its international Academic Ranking of World Universities. It assesses research publications in distinguished scientific journals, the number of quotes from researchers as well as high-ranking awards such as the Nobel Prize. By doing so, it is possible to evaluate academic performance in particular in the natural sciences according to transparent criteria.
Academic Ranking of World Universities 2018