Experiences with eating disorders
The Website www.krankheitserfahrungen.de to present a new module about anorexia and bulimia
Freiburg, Jul 05, 2018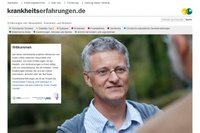 Screenshot: www.krankheitserfahrungen.de
Experiences, information, support: The new module "Eating disorders: Anorexia and bulimia" has been published on the Website www.krankheitserfahrungen.de. People talk about living in a world between health and illness on the Internet platform. The different clinical pictures and experiences within the health system have been arranged through a scientific lens. The focus is on the descriptions of affected people in the form of video, audio and text excerpts.
The new module marks an anniversary for the project as it is the tenth category of experience now available on the Internet platform. It reports on experiences of people with an eating disorder – from those affected for those affected, along with relatives and professionals. 19 women from the ages of 18 to 63 who have lived with an eating disorder between one and 40 years participated. At the time of the interviews, they were at various stages of the illness: some were in an acute stage while others had completely recovered from the illness. The narrators' reports include explanations of how their eating disorder began, how it has impacted everyday life, and what they experienced with a range of assistance they received. Website users can view, listen to or read excerpts of the respective topic from the interviews.
The Internet platform www.krankheitserfahrungen.de has been in existence for more than eight years. It is a project by the Rehabilitation Psychology and Psychotherapy section of the Department of Psychology at the University of Freiburg and the Department of General Practice at the University Medical Center Göttingen in cooperation with the Institute of Public Health at Charité - Universitätsmedizin Berlin.