Creating breathing room
Sponsors support 145 students of the University of Freiburg with a Deutschlandstipendium
Freiburg, Jul 17, 2018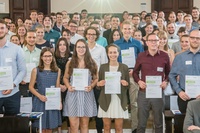 Photo: Jonas Conklin
Breathing room to think and research, exchange ideas and experiment, for creativity and criticism: 145 students at the University of Freiburg from all disciplines and study phases will receive a Deutschlandstipendium for the 2018/2019 academic year – more than ever before. Half of the annual stipend of 300 euros per month is funded by nearly 40 regional and supra-regional sponsors, including companies, foundations and, in particular, private individuals: University of Freiburg alumnae and alumni have donated 34 scholarships to the Förderverein Alumni Freiburg eV alone. The total of 261,000 euros raised by the university has, in line with the principle of the Deutschlandstipendium, been doubled to 522,000 euros by the Federal Ministry of Education and Research.
"The commitment of the many donors shows the high value of this funding program. The fact that we can award more students with a Deutschlandstipendium from year to year is not just a sign of confidence in our training of young talent. In the sense of participation in the co-creation of our university, it is an expression of a lively, supportive culture," emphasizes Rector Prof. Dr. Hans-Jochen Schiewer. Studying not only means imparting knowledge, but also the opportunity to develop one's own personality and individual abilities - supporting students on this path is an essential goal of the scholarship program.
The funding is also a sign of recognition and a signal that performance and commitment at the University of Freiburg are worthwhile. Criteria for the scholarship recipients' selection include not only very good academic achievement but also social commitment as well as biographical challenges. The funding is initially tied to a one-year term. However, many fellows succeed in maintaining their high level of performance and in successfully applying again. In addition, the university attaches great value to the scholarship and promotes the formation of an active network of scholarship recipients.
For more information