Angela Merkel Applauds Eucor – The European Campus
The chancellor talked about Emmanuel Macron's vision of a "European university" for the first time
Freiburg, May 11, 2018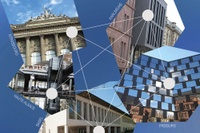 Photos: Catherine Schröder/Université de Strasbourg, UHA, Christian Flierl/Universität Basel, Karl-Heinz Zurbonsen/Universität Freiburg, Andrea Fabry/KIT. Illustration: Jürgen Oschwald
Chancellor Angela Merkel acknowledged French President Emmanuel Macron's idea of establishing European universities to create new incentives in Europe at the ceremony where he was awarded the International Charlemagne Prize of Aachen on May 10, 2018. In her talk, she commended Eucor – The European Campus, which is an alliance of five Upper Rhine universities, as path-breaking: "I support President Macron's proposal to establish European universities to promote the education and research landscape in Europe. The signing of the joint declaration on April 12 this year in Strasbourg by those responsible from the German state of Baden-Württemberg and the Grand Est region in France is the first real step in this direction. It means that the five universities located in the Upper Rhine region will form an exemplary research and education area. That is something we urgently need." Prof. Dr. Hans-Jochen Schiewer, the rector of the University of Freiburg and president of Eucor – the European Campus, is very pleased about the chancellor's endorsement: "Our alliance has already received valuable support in Germany on the state level, and this nod from the federal level is additional encouragement to continue our vision of establishing a research and education area in the Upper Rhine region without walls or borders."
On April 12, 2018, the minister-president of Baden-Wuerttemberg Winfried Kretschmann, the president of the Grand Est region Jean Rottner, and the rector of the Académie de Strasbourg Sophie Béjean signed a joint declaration to develop the Eucor – The European Campus alliance into a European university.
Background information about Eucor – The European Campus
The European Grouping of Territorial Cooperation (EGCT) Eucor – The European Campus developed out of a long-standing cooperation between the universities of the Upper Rhine region. In December 2015 the five member universities – the University of Basel, the University of Freiburg, the Université de Haute-Alsace, the Karlsruhe Institute of Technology (KIT) and the Université de Strasbourg – signed the founding document to establish a separate legal personality for cross-border research and teaching. With this, the universities created the first EGCT between universities at a European level. The European Campus places a particular focus on research in the areas of quantum physics and quantum technologies, precision medicine, sustainability studies and cultural studies. In 2016 the Eucor – The European Campus: cross-border structures project received three years of funding from the Interreg program of the European Union (European Regional Development Fund). The aim is to develop formative structures that create the basic conditions for new, ground-breaking and at the same time identity-defining cooperations in research and teaching.
In total, the EGCT combines the competencies and potential of 15,000 researchers and 11,000 doctoral candidates as well as more than 120,000 students. Together, the Eucor – The European Campus university grouping is working to build a distinctive academic and research area – one without walls and borders and with an international appeal.
Talk by Chancellor Angela Merkel [German]

Interview with Hans-Jochen Schiewer about Eucor – The European Campus
Current magazine supplement of the Deutsche Universitätszeitung (duz) about Eucor – The European Campus