"museOn – weiterbildung & netzwerk" extended
Key goal in the second funding round is setting up a Master's program in Museum Studies
Freiburg, Feb 01, 2018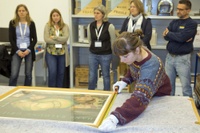 Advanced training event organized by museOn in the central art warehouse in Freiburg. Photo: Jürgen Gocke
The aims of the first funding round have been achieved, even surpassed - now "museOn – weiterbildung & netzwerk" is set to continue. The German Ministry of Education and Research is putting up a total of 700,000 euros to sponsor the advanced training program at the University of Freiburg from February 2018 to the end of July 2020 via its "Aufstieg durch Bildung: offene Hochschulen" program. "Following a one-year pilot phase, we launched our regular study program and marketed it, which was not included in the first round of funding, says Dr. Christian Wacker, the academic project manager of museOn. Christian Wacker, the academic project manager of museOn. The launch was success - now 51 professional curators who work in museums, exhibitions and collections are currently participating in one or more of the 26 courses on offer. In summer semester 2018, the number of courses will rise to 40.
Collating, collecting, exhibiting, communicating, marketing, managing, and digitizing - Wacker's team has worked with more than 40 experts with theoretical and practical museum experience as well as with University of Freiburg professors to develop an advanced training module. One such module is part of each of the 40 courses. This system makes it possible to study in accordance with one's particular interests as well as obtaining various certificates. The participants can take individual courses or combine them to receive a certificate of Museum Studies. The courses are intended for people working in museums, exhibitions and collections who would like to further professionalize their work and expand their skill sets - as well as for those who would like to respond to changing circumstances and social conditions such as cultural diversity or the structural effects of digitization to develop their work to current expectations.
"The key goal of the second funding round is to develop a Master's degree program in combination with a museum internship," Wacker says. An internship is the classic form of training in the sector, although each institution may have its own unique program. "We often see that the practical training is very good but that theory comes off second-best. Also, in many cases the internship does not cover all the necessary aspects of the profession," Wacker explains. The Master's program which museOn will develop is aimed at closing this gap - tailored to each individual. "Students can put together their own personal curriculum in such a way that it will include all the contents they missed out on during their internship." This flexibility will also make it possible to complete the Master's program in Museum Studies even without doing an internship. The Master's degree program in Museum Studies is to be launched in winter semester 2020/21. The team plans to extend the overall program by another 15 courses.
Article in the research magazine uni'wissen (2016)