Wolfram Burgard heads leading robotics club
Freiburg computer scientist elected president of the IEEE Robotics and Automation Society
Freiburg, Oct 04, 2017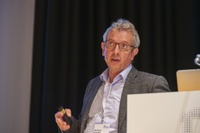 Wolfram Burgard. Photo: Hans Peter Fischer
The IEEE Robotics and Automation Society (IEEE RAS) has chosen Freiburg Professor of Informatics Wolfram Burgard in Vancouver, Canada as the next president. He is to hold the office for 2019 and 2020.
The IEEE RAS, which has its headquarters in Piscataway, New Jersey, USA, is one of the most respected global organizations in the field of robotics and automation. The Society has been in existence for 30 years and has more than 10,000 members. 
Burgard heads the working group Autonomous Intelligent Systems at the University of Freiburg's Institute of Informatics, and he is the spokesman for the German Research Foundation-backed excellence cluster BrainLinks-BrainTools. He has authored more than 250 scientific publications and is regarded as a key figure in the areas of mobile robot location, navigation, and control. His work earned him the Gottfried Wilhelm Leibniz Prize - Germany's highest research award - in 2009. In 2019 Burgard will host one of the most important conferences in the field, Robotics: Science & Systems, in Freiburg.

Wolfram Burgard website
www2.informatik.uni-freiburg.de/~burgard