Two Freiburg life scientists are new members of Leopoldina
Sonja-Verena Albers and Robert Grosse have been elected for the German National Academy of Sciences – Leopoldina
Freiburg, Jun 01, 2022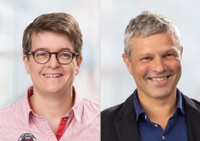 Sonja Albers and Robert Grosse. Photo: CIBSS
Microbiologist Prof. Dr. Sonja-Verena Albers and pharmacologist Prof. Dr. Robert Grosse are new members of the National Academy of Sciences – Leopoldina since May 2022. The scientific institution advises politicians and the public on scientific issues and promotes young scholars. An election as a member of the Leopoldina is one of the highest academic awards and honours for scientists.
Albers is a professor for microbiology and Dean of the Faculty of Biology. Grosse is professor at the Institute of Experimental and Clinical Pharmacology and Toxicology. Both study different aspects of cellular function and signalling and are members of the Cluster of Excellence CIBSS – Centre for Integrative Biological Signalling Studies at the University of Freiburg.
Sonja-Verena Albers
Sonja-Verena Albers researches the molecular biology of archaea, a diverse group of single-celled organisms that is distinct from bacteria and eukaryotes. Albers' work focuses on the assembly of the archaeal cell envelope, and on the regulatory and signaling networks that control it. This includes the assembly of large molecular appendages on the cell surface, such as the motility structures with which archaea navigate and sense their environment. And also smaller modifications to the cell surface, such as the addition of carbohydrate groups to molecules though a process called N-glycosylation. The unique properties of archaea require research techniques that are specific to these organisms, which is why Albers uses newly established genetic tools in combination with approaches from the fields of molecular microbiology, cell biology and biochemistry and biophysics.

Robert Grosse
The focus of Robert Grosse's research lies on the protein actin, which forms dynamic filament networks that make up large parts of the cellular skeleton. Grosse researches the regulation of actin and made important contributions to the current understanding of its role in health and disease. Early on, Grosse recognized that actin acts as a signal transducer between receptors on the cell's surface and its nucleus, and that actin networks within the nucleus affect gene regulation. His research group investigates how these functions contribute to cell motility and cell division, and what role the regulation of actin networks plays in diseases such as cancer and viral infection. This detailed understanding of actin dynamics opens up new targets for pharmacological tumor therapy.
The Leopoldina
Founded in 1652, Leopoldina is one of the oldest science academies in the world. As Germany's national academy, it has represented German science in international committees since 2008 and takes an independent stance on the scientific foundations of political and social issues. In interdisciplinary expert groups, the Leopoldina develops public statements on current issues, also in cooperation with other German, European and international academies.
About the Cluster of Excellence CIBSS
The Cluster of Excellence CIBSS - Centre for Integrative Biological Signalling Studies aims to gain a comprehensive understanding of biological signalling processes across scales - from the interactions of single molecules and cells to the processes in organs and whole organisms. With the gained knowledge, signals can be controlled in a targeted manner, and this in turn enables scientists not only to further research, but also to innovate in medicine and plant sciences.
CIBSS - Centre for Integrative Biological Signalling Studies

Contact:
Prof. Dr. Sonja-Verena Albers
Institute of Biology II
Group: Molecular Biology of Archaea
Tel.: +49 (0)761 / 203-2630
E-Mail: sonja.albers@biologie.uni-freiburg.de
Prof. Dr. Robert Grosse
Institute of Experimental and Clinical Pharmacology and Toxicology, Department I
University of Freiburg
Tel.: +49 (0) 761 / 203-5301
E-Mail: robert.grosse@pharmakol.uni-freiburg.de
Annette Kollefrath-Persch
Hochschul- und Wissenschaftskommunikation
Office of University and Science Communications
Tel.: +49 (0) 761 / 203-8909
E-Mail: annette.persch@zv.uni-freiburg.de