Thomas Filk receives senior professorship from the Wilhelm and Else Heraeus Foundation
Freiburg physicist seeks to make teacher training in physics more practice-oriented with newly designed lecture
Freiburg, May 31, 2022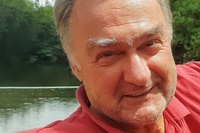 Thomas Filk. Photo: provided
Prof. Dr. Thomas Filk from the Institute of Physics at the University of Freiburg has been awarded a senior professorship for innovative educational concepts in physics by the Wilhelm and Else Heraeus Foundation. The professorship, which will initially be awarded for three years, is both an award and a mandate: Starting June 1, 2022, Filk, who has been dedicated to the education of high school physics students for many years, will develop a concept for a master's course that addresses the needs of prospective teachers today.
Teaching-oriented training for future teachers
"The lecture is designed to cover topics and issues that teachers can use to get their students excited about physics and that are of interest to students such as cosmology, astrophysics, quantum technology, climate physics, or relativity," Filk explains. "When students ask 'What happens if I fall into a black hole?' 'How can I imagine gravitational waves?' or 'What actually is energy?', physics teachers are usually overwhelmed because these topics and their didactic implementation are generally not part of the curriculum of teacher training." Parallel to the lecture, Filk would like to create texts on the topics covered, which will also enable external teachers to quickly gain an overview. "Future teachers need a teaching-oriented education. In many cases today, the emphasis is on research-oriented education with the teaching of mathematical techniques for solving problems. The descriptive understanding, from which a simplification for the classroom can be made, often comes too short."
About the foundation
The Wilhelm and Else Heraeus Foundation is a non-profit foundation that promotes research and education in the natural sciences with an emphasis on physics. Among other things, it promotes student laboratories and extracurricular places of learning and is involved in the training and continuing education of teachers in physics. With the "WE-Heraeus Senior Professorship for Innovative Educational Concepts in Physics", scientists can devote themselves to improving teaching at their university for three more years after leaving active employment.
About Thomas Filk
Thomas Filk, together with his two collaborators Clara Fuchs and Andreas Woitzik, received the University Teaching Award 2021 for his teaching-specific lecture "Compact Advanced Theoretical Physics." This course resulted in a textbook for high school physics teacher training.
For more information about the Wilhelm and Else Heraeus Foundation
About the senior professorships