Südwestmetall Incentive Award for Freiburg Law Student
Andreas Schubert receives award from the Baden-Württemberg Employers' Association of the Metal and Electrical Industry
Freiburg, Apr 11, 2018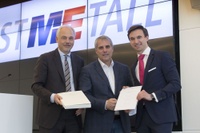 Südwestmetall-CEO Peer-Michael Dick, Südwestmetall-Management Board member Wilfried Porth and award winner Andreas Schubert (from the left). Photo: Frank Eppler
For his dissertation on "Unternehmensmitbestimmung in der SE & Co. KGaA" [Corporate Co-determination within SE & Co. KGaA], Freiburg law student Dr. Andreas Schubert has received an incentive award endowed with 5,000 Euros from Südwestmetall, the Baden-Württemberg Employers' Association of the Metal and Electrical Industry. Südwestmetall awards this prize annually to one academic from each of the nine universities in the Federal State of Baden-Württemberg. The award honors outstanding work of significance to the industrial world of work or its socio-political parameters.
SE & Co. KGaA has a two-tier corporate structure: a Kommanditgesellschaft auf Aktien (KGaA, limited partnership) is combined with a European limited company (SE) as the executive body. In his work, Schubert cast light on the distinctive aspects of co-determination that arise from this structure. Given the business community's growing interest both in the SE and in the SE & Co. KGaA, his work has great practical benefits: the advantage of the SE & Co. KGaA – specifically from the point of view of family businesses – is that co-determination can be structured more flexibly and therefore better adapted to the needs of the entrepreneurial family.
Andreas Schubert passed the first state examination in law at the University of Freiburg, specializing in labor and social insurance. Since October 2017 he has been a junior clerk at the first Civil Chamber of the Freiburg District Court with special responsibility for lawsuits arising from medical treatment. Working in the Office of the Medical Director, Schubert has been engaged in legal matters at the Freiburg University Medical Center since October 2016.