Historian Jörn Leonhard to Explore the "World Crisis of 1918–1939/41" with Funding from the Volkswagen Foundation
Continuation of his project on World War I and Treaty of Versailles
Freiburg, Oct 18, 2021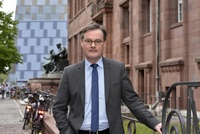 Prof. Dr. Jörn Leonhard. Photo: Thomas Kunz
The historian Prof. Dr. Jörn Leonhard of the University of Freiburg is continuing his extensive work on World War I and the Treaty of Versailles with the "World Crisis of 1918–1939/41." He will receive support in completing the monograph from the Volkswagen Foundation's "Opus Magnum" funding program, which allows him to be released from teaching and administrative duties for a period of 18 months and provides a lump sum of 15,000 euros for materials.

The funding is a great support," says Leonhard. "It will allow me to devote all of my efforts to the project for one and a half years – also providing me with a substitute for my duties in teaching and administration. Moreover, I am looking forward to being able to use the findings from my research in my teaching afterwards."

Structural Analysis and Vivid Accounts from Contemporary Witnesses

The work will focus on an exciting complex of themes with a worldwide reach, including dreams of violence and cultures of violence after 1918, revolutions and counter-revolutions in the course of a worldwide rivalry of utopias, global trends and crises of capitalism and democracy, and cultural patterns and media of world perception. 

Leonhard plans to conduct a structural analysis of these and other complexes and simultaneously to shed light on vivid accounts from contemporary witnesses. In doing so, he will endeavor to balance out chronological observations with thematic explorations.

A Perspective on the Complexity and Openness of Developments and Events

Taking an approach that already marked his previous works, the Freiburg historian aims to provide a vivid account of the period of world crises that takes into special account the complexity and openness of developments and events. According to Leonhard, these phenomena should not be viewed along supposedly unambiguous overarching narratives – such as a failure of liberal internationalism or a self-destruction of Europe. Rather, "it is a matter of following the manifold phenomena in their internal logics, specific antecedents, and longer-term interrelationships."

Leonhard also aims to assimilate the global histories of many countries and to consider those of Europe particularly in view of a radical upheaval: The dawn of new ideas of order that are no longer decisively shaped by Europe and no longer focus on the continent as an acting subject.

The Volkswagen Foundation's Funding Program

The Volkswagen Foundation's "Opus Magnum" funding aims at giving distinguished professors from the humanities, cultural studies, and social sciences the freedom to devote themselves intensively to writing an opus magnum that will have an impact beyond their own disciplinary community. The funding essentially consists of financing a substitute professorship; this also opens up an additional perspective for young academics.
Contact:
Prof. Dr. Jörn Leonhard
Department of History
University of Freiburg
Tel.: +49(0)761/203-3424
Email: joern.leonhard@geschichte.uni-freiburg.de
Bastian Strauch
University and Science Communication
University of Freiburg
Tel.: +49(0)761/203-4301
Email: bastian.strauch@pr.uni-freiburg.de