Heisenberg professorship goes to Evi Zemanek
Research focus on media ecology and comparative media studies
Freiburg, Apr 16, 2019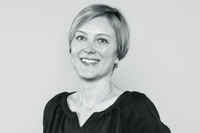 Photo: Mediacenter University of Freiburg
Prof. Dr. Evi Zemanek took over the professorship in the Department of Media Culture Studies at the University of Freiburg just in time for the 2019 summer semester to begin. Zemanek teaches and conducts research in the fields of comparative media studies and media ecology. The German Research Foundation is financing the Heisenberg professorship. It is limited to five years and leads to a permanent professorship at the Faculty of Philology in the event of a positive evaluation.
The professorship is part of the so-called "Environmental Humanities". Zemanek will further develop the profile of media cultural studies in Freiburg, in particular with courses and research contributions in the fields of media ecology and comparative media studies. Together with the students she comprehensively explores the nature of historical and contemporary media environments and compares different media cultures, whereby diverse media practices are not only analyzed but also placed into question in terms of ethics. The professorship places a special focus on the dependencies of media culture on natural resources, which are sometimes critically reflected in environmental journalism.
Zemanek will continue to expand its cooperation with the environmental sciences, which has already been established within the framework of the "Upper Rhine Cluster for Sustainability Research" and Eucor - The European Campus. The professorship aims to promote interdisciplinary dialogue between the humanities, social sciences and natural sciences under the auspices of the ecological crisis. Furthermore, with its expertise in inter- and transmediality research and a special focus on text-media and text-image relations, the professorship will strengthen the bridge within the faculty between media cultural studies and philology as well as the France Center with its journalistic study program.
Zemanek studied Comparative Literature, American Studies, Italian Studies, Communication Studies and Art History at the University of Augsburg, Ludwig-Maximilians-Universität in Munich, DePaul University in Chicago, IL, USA and the University of Pisa in Italy. She earned her doctorate with a scholarship from the Studienstiftung des Deutschen Volkes in Munich and came to the University of Freiburg in 2010 as a junior professor for Modern German Literature and Intermediality.