Heinz Maier-Leibnitz Prize goes to Maike Hofmann
Freiburg physician for molecular science receives Germany's most important award for young researchers
Freiburg, Mar 08, 2022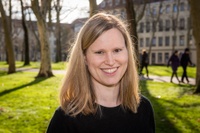 Maike Hofmann. Photo: Klaus Polkowski
Immunologist Dr. Maike Hofmann will receive the Heinz Maier-Leibnitz Prize from the German Research Foundation (DFG). The decision was made by a selection committee appointed by the DFG and the Federal Ministry of Education and Research. The prize is considered the most important award for young researchers in Germany. This year it will be granted ten times and is endowed with 20,000 euros each.
Immune response in viral hepatitis
Maike Hofmann conducts research on the human immune system at the Faculty of Medicine at the University of Freiburg and at the Medical Center – University of Freiburg. She is a research group leader at the Department of Internal Medicine II (Medical Director: Prof. Dr. Robert Thimme) and, among other things, a subproject leader in the Collaborative Research Centers (SFB) 1160 "IMPATH - Immunopathology due to Impaired Immune Responses," SFB 1479 "OncoEscape - Oncogene-Driven Immune Escape" and TRR 179 "Determinants and Dynamics of Elimination versus Persistence of Hepatitis Virus Infections." In her habilitation project, Hofmann is investigating how so-called killer cells of the human immune system control viral hepatitis. These cells are a group of white blood cells that have cell-damaging properties and play a central role in the immune response to hepatitis viruses and also liver cancer cells. Since 2019 her work has been funded by the "Margarete von Wrangell Habilitation Program for Women" from the Baden-Württemberg Ministry of Science, Research and the Arts.
Publications about SARS-CoV-2
Most recently, Hofmann was significantly involved in two Freiburg studies on SARS-CoV-2. In their publications, the scientists were able to show that after a SARS-CoV-2 infection, immune cells are formed - so-called memory T cells - which are retained in the body and could mediate a rapid immune response in the event of a new infection. The study was published in the journal Nature Medicine. In a second study, published in Nature, the researchers broke down when initial immune protection can be detected after SARS-CoV-2 vaccination with an mRNA-based vaccine and how the responses of different components of the human immune system develop over months.
DFG press release (in German)
Pressephoto for download
Photo: Klaus Polkowski