Gender at the opera, depression in the Modern Age
Erasmus Prize 2018 for two graduates of two Liberal Arts and Sciences programs
Freiburg, Jun 07, 2018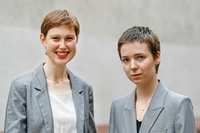 From left to right: Felisa Mesuere und Roosje van der Kamp. Photo: Patrick Seeger
The University College Freiburg (UCF) of the University of Freiburg awards its 2018 Erasmus Prize for the Liberal Arts and Sciences 2018 to Roosje van der Kamp and Felisa Mesuere. Both prize winners completed an English-language Bachelor program in Liberal Arts and Sciences – van der Kamp in Amsterdam; Mesuere in Freiburg. UCF awards the Erasmus Prize for theses that consider questions of epistemology and/or history of science in an exemplary manner and that contribute to methodological and theoretical interdisciplinary exchange. Van der Kamp and Mesuere share the 5,000 euros prize money, which is donated by the Sparkasse Freiburg-Nördlicher Breisgau.
Roosje van der Kamp wrote her Bachelor thesis on depressions in the context of philosophical and modern discourses. She analyzed Danish philosopher Søren Kierkegaard's critique of the Modern Age in relation to his concept of depression and placed this in the context of contemporary discourse on depression. By connecting philosophy with psychological and psychiatric perspectives, her work contributes to a better understanding of depression in today's society. Van der Kamp completed her degree at Amsterdam University College (AUC) with a Major in the Humanities. In September 2018 she will start the Research Master program Philosophy at the University of Amsterdam. 
In her Bachelor thesis, Felisa Mesuere combines approaches from history, music and gender studies in order to analyze gender ambiguity in Claudio Monteverdi's early 17th-century opera L'Orfeo. Her research focuses on the nuances of masculinity in L'Orfeo and shows that music was a ground of contestation over new forms of political organization and social arrangements. Mesuere was one of the pioneering UCF students and majored in Culture and History. Since October 2017, she is enrolled in the Master program Music Research and Music Education at the University of Music, Drama and Media Hanover.