Funding the next generation of top researchers
The Baden-Württemberg Foundation accepts two Freiburg scientists into its elite program
Freiburg, Dec 14, 2017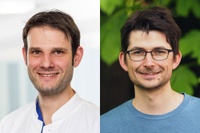 Ingo Hilgendorf und Jochen Fründ (left to right). Photos: Medical Center – University of Freiburg andFelix Fornoff
Dr. Jochen Fründ of the Faculty of Environment and Natural Resources, Biometrics and Environmental Systems Analysis at the University of Freiburg and Dr. Ingo Hilgendorf of the University Heart Center Freiburg-Bad Krozingen receive more than 200,000 euros from the Baden-Württemberg Foundation for their respective research projects. The Foundation's elite program supports postdoctoral researchers on their path to a professorship. A total of 57 applications were received this year, from which an independent panel of experts chose 13 in a two-phase process. The Foundation's aim is to ensure a new generation of specialist personnel at institutions of higher education and to reinforce the state of Baden-Württemberg as a place of quality higher education.
Dr. Ingo Hilgendorf, University Heart Center Freiburg-Bad Krozingen:
PCSK9 inhibitors reduce the risk of heart attack. But what happens in the case of a heart attack? The study investigates whether PCSK9 inhibitors help or hinder recovery after a heart attack.   
In the treatment of patients with very high cholesterol, doctors have started prescribing drugs which suppress the production of Proprotein convertase subtilisin/kexin type 9 or PCSK9 for short. The aim is to lower cholesterol levels, thereby reducing the risk of heart attacks. PCSK9 binds with lipoproteins which transport fats and with cell types inside and outside the heart. But it's not known what effect it has on heart attack. It may be that PCSK9 inhibition has disadvantageous effects - for instance, by increased heart cell death due to poor blood supply and increased platelet activation leading to clotting. On the other hand, macrophages may be able to more effectively clean up diseased areas. Ingo Hilgendorf and his team will conduct an experimental study to find out exactly what helpful and harmful effects the drug has on recovery after a heart attack. With the clinical application of PCSK9 inhibitors and studies on genetic treatments, the team is working at the cutting edge of basic and clinical research.


Dr. Jochen Fründ, Faculty of Environment and Natural Resources, Biometrics and Environmental Systems section:
Effects of tree diversity and the significance of phenology and origin for insect-driven interactions between neighboring plants.
It is often assumed that the greater diversity of tree species in mixed forests reduces the danger of insect damage compared with monocultures. Previous data have only partially confirmed this, while other studies have found no influence on biological diversity or even greater insect damage to trees in mixed-forest environments. In this project Jochen Fründ and his team are taking a new approach to better understand this variability and to identify conditions under which insect damage can be reduced effectively by mixing tree species. Non-native species play a role in this: How do they influence the interaction between insects and native trees? Are they less inhabited by insects and suffer less damage? The project is integrated into an international research network (IDENT), which has planted identical experimental plantations in Freiburg and in several locations in North America. The remarkable thing about this study is that it seeks to describe all the insect colonies on all the tree species investigated, both locally and at the test locations in other parts of the world. Not only will leaf-eaters such as caterpillars and beetles and sap-suckers like aphids be included, their natural predators - wasps, spiders, ladybugs - will also be recorded and described as part of the network. If they move from tree to tree, these predators could be responsible for a reduction of tree-damaging insects in certain tree species combinations. It's hoped the experiment will enable a better understanding of the interaction between the various players in the forest ecosystem, which will provide new ideas for more sustainable forestry.