Freiburg Psychologist among World's Most Influential Scientists
Markus Heinrichs is one of the most highly-cited researchers
Freiburg, Jul 08, 2014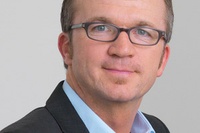 Markus Heinrichs has been Professor of Biological and Personality Psychology at the University of Freiburg since 2009. Photo: private
The psychologist and neuroscientist Prof. Dr. Markus Heinrichs is one of three German researchers in the field of "neurosciences and behavior" and the only psychologist in German-speaking Europe to have made it onto the list of the world's most influential scientific minds. The "Highly Cited Researchers" ranking was compiled by the publisher Thomson Reuters on the basis of its "Web of Science," an online platform consisting of several citation databases: They evaluated the top one percent of the most-cited publications in the natural sciences, social sciences, and medicine from 2002 to 2012. The frequency with which a researcher is cited by his or her colleagues is considered the key factor for measuring the influence of a scientific publication and the author's reputation in his or her field. The list "The World's Most Influential Scientific Minds" includes 3,215 scientists from 21 fields of research.
"I am honored to receive this accolade and consider it an acknowledgement of the research conducted by my entire team that will motivate us in the future. I would like to express my deep gratitude to the University of Freiburg for providing us with the outstanding facilities so essential for conducting research in international competition," says Heinrichs. He has served as professor of Biological and Personality Psychology at the University of Freiburg since 2009. He also heads the research group "Social Neuroscience" at the Freiburg Brain Imaging Center of the University Medical Center and the university's Outpatient Psychotherapy Clinic for Stress-Related Disorders. Heinrichs was the first scientist ever to conduct research into the significant role played by the hormone oxytocin in human social behavior, anxiety, and stress. In his current research, he is developing a new "psychobiological therapy" for mental disorders with social deficits utilizing a combination of hormone stimulation and psychotherapy.
Click here for further information on Markus Heinrichs.
The press release from the German Psychological Society is available here.
The ranking may be viewed here.
Contact:
Prof. Dr. Markus Heinrichs
Department of Psychology
Chair for Biological and Personality Psychology
Stefan-Meier-Strasse 8, D-79104 Freiburg, Germany
Phone: +49 761/203-3024
E-Mail: heinrichs@psychologie.uni-freiburg.de