Faculty of Theology confers three honorary doctorates
Awards for Christine Axt-Piscalar, Wolfgang Bernhardt, and Rudolf Langthaler
Freiburg, Jul 05, 2017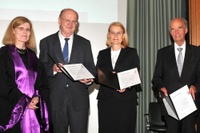 Dean Ursula Nothelle-Wildfeuer has conferred honorary doctorates to Rudolf Langthaler, Christine Axt-Piscalar and Wolfgang Bernhardt (from left). Photo: Franz Ehret
The Faculty of Theology at the University of Freiburg has conferred three honorary doctorates. These awards are generally only made to persons who have given outstanding service to Theology both in research and in practise. "We are very happy to be able to give the awards to a Protestant theologian, an economic ethicist, and a Catholic theologian in this anniversary year of the Reformation," says the Dean, Professor Ursula Nothelle-Wildfeuer.
Professor Christine Axt-Piscalar, holder of the professorship for Systematic Theology and head of the Institutum Lutheranum at the University of Göttingen, receives the award for her services to Christian dogma, particularly the doctrine of the Trinity and the theory of sin and free choice, her contributions to the theory of religion and on the process of transformation of Protestant doctrine in the 19th and 20th centuries, as well as for her contribution to the ecumenical movement for the unity of the Christian church.
Professor Wolfgang Bernhardt, honorary professor of Business Management at the University of Leipzig and until 2012 chairman of the Frankfurter Allgemeine Zeitung supervisory board, receives the award for his services to applying the Christian business ethic in many different areas of society and his contribution to the relevance and validity of social ethics within the church and in international problem situations.
Professor Rudolf Langthaler, chairman of the Institut für Christliche Philosophie at the Faculty of Catholic Theology at the University of Vienna, receives the award for his seminal research into the sustained presence of the notion of God in modern and contemporary philosophy. He has discussed the possibility of human beings' metaphysical homelessness like no other contemporary philosopher, while at the same time emphasizing the humane essentiality of the idea of God, the Faculty says. His works are particularly important to obviate the messages of Theology, according to the Faculty.
Contact:
Dr. Michael Schäfer
Faculty Management
Faculty of Theology
University of Freiburg
Phone 0761/203-8686
E-Mail: michael.schaefer@theol.uni-freiburg.de