Eva Mayr-Stihl Foundation professorship for forest genetics established at the University of Freiburg
Dr. Katrin Heer appointed as the first professorship holder
Freiburg, Oct 01, 2021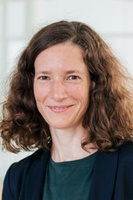 Dr. Katrin Heer. Photo: Sandra Meyndt
Together with the University of Freiburg, the Eva Mayr-Stihl Foundation has established an endowed professorship (W3) in the field of forest genetics. The biologist Dr. Katrin Heer has been appointed as the very first professorship holder as of October 1, 2021. The central research objective is to investigate tree populations at the genetic and epigenetic level with regard to their adaptation and adaptability to climate change. In particular, the intention is to strengthen the scientific basis for sustainable forestry. To this end, Katrin Heer will analyze various data from trees: genomic data as well as data that characterize the tree's traits and environment. She will also investigate seed dispersal and diversity of tropical tree species using genetic methods. Another focus of the professorship will be teaching forestry and environmental science courses. The professorship is located at the Faculty of Environment and Natural Resources in the Institute of Forest Sciences.
"Healthy forests that can withstand climatic changes are very close to our hearts," says Robert Mayr, founder and board member of the Eva Mayr Stihl Foundation. "With the endowed professorship, we would like to further strengthen research and teaching in this field at the University of Freiburg. And we are very excited about the first professorship holder, Katrin Heer. Her research in the field of forest genetics is outstanding, as is her commitment to teaching."
"For the University of Freiburg, the Eva Mayr-Stihl Endowed Professorship is an important addition to its research on climate change adaptation and livelihood protection - and we are particularly pleased that we were able to attract Katrin Heer as a highly qualified professorship holder," says Prof. Dr. Kerstin Krieglstein, Rector at the University of Freiburg.
"Forest genetics is an important scientific field for our societies to prepare for climatic changes that will have a strong impact on our forests. I am very pleased that the endowed professorship now gives me the opportunity to advance my research on this even further together with the University of Freiburg and also to impart the knowledge through teaching," says Katrin Heer.
Forest genetics combines molecular biological, ecological and bioinformatic methods to study the adaptability of tree populations. In this way, it can identify correlations between the information stored in genomes and trait expression. Further research areas of the endowed chair are ecological forest genetics with analyses of the effects of environmental factors and anthropogenic influences, such as forest fragmentation and forest management, on the genetic composition and diversity of tree populations.
About Katrin Heer:
Katrin Heer is a biologist whose research focuses on the evolutionary ecology of tree species. Most recently, she worked at the University of Marburg. There, as an Emmy Noether junior research group leader, she conducted research on the phenology of tropical tree species and investigated the question of which environmental signals tropical trees use to synchronize flowering and leaf emergence. To this end, she investigates, among other things, the regulation of genes that control leaf development and flowering events and thus represent the trees' initial response to an environmental stimulus. From 2013 to 2021, she worked as a postdoctoral researcher together with Prof. Lars Opgenoorth and Prof. Birgit Ziegenhagen at the University of Marburg in various EU- and DFG-funded projects on the genetic basis of local adaptation and tree epigenetics. Heer received her PhD from Ulm University in 2013 with her thesis "Plant-animal interactions and gene flow in neotropical rainforests."
About the Eva Mayr-Stihl Foundation:
The Eva Mayr-Stihl Foundation is an independent, non-profit foundation. It was established in 1986 by Eva Mayr-Stihl and Robert Mayr. The foundation's work focuses on science and research, medicine, and art and culture. Both founders are honorary senators at the University of Freiburg.
Contact:
Bastian Strauch
Office of University and Science Communications
University of Freiburg
Tel.: 0761/203-4301
E-Mail: bastian.strauch@pr.uni-freiburg.de
Eva Mayr-Stihl Foundation, Katharina Edlinger
Weingärtner Vorstadt 10, 71332 Waiblingen
Tel.: 07151/96633-14
E-Mail: edlinger@stihl-stiftung.de
Internet: www.eva-mayr-stihl-stiftung.de