Ines Schröder and Vera Marstaller receive the Erasmus Prize 2022 from University College Freiburg
Research on trust towards AI and dissertation on war photography and National Socialism awarded
Freiburg, Jul 07, 2022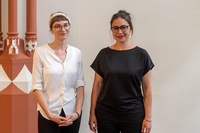 The award winners Ines Schröder and Vera Marstaller (f.l.). Photo: Jürgen Gocke
University College Freiburg (UCF) at the University of Freiburg has award Ines Schröder and Vera Marstaller the "Erasmus Prize for the Liberal Arts and Sciences" 2022. Schröder receives the award for her admission thesis in the high school teaching degree program in philosophy/ethics entitled "Trust in the Black Box. An Investigation of the Problem Horizon of the Black Box in the Context of the Debate on Trust in Artificial Intelligence." Marstaller is being honored for her dissertation, "Heroic Gestures. War Photography and National Socialism (1939-1945)." Her work was done within the framework of the Collaborative Research Center 948 Heroes - Heroizations - Heroisms.
This year, the prize, donated by the Sparkasse Freiburg-Nördlicher Breisgau, will be awarded for the 10th time. With this award, the UCF honors work in which the respective topic is treated in a particularly exemplary manner, also from an interdisciplinary perspective, thus enabling bridging between different disciplines, such as the natural sciences and the humanities. With the award, Schröder receives prize money of 1,500 euros and Marstaller 3,500 euros.
Ines Schröder's work is devoted to the trustworthiness of artificial intelligence (AI) systems, the 'black box', in human-machine interaction. She examines the epistemological problems of the 'black box' across disciplines, incorporating perspectives from cybernetics, science and technology studies, and actor-network theory to develop a position of understanding AI.
Vera Marstaller's dissertation presents and interprets contemporary photographic heroic gestures between 1939 and 1945. Using the categories of perpetrators, victims, and heroes, she breaks down the illustrated pictorial history of the Third Reich during World War II. In doing so, Marstaller combines image and text sources with different approaches from image and cultural studies and the historiography of National Socialism.