Early career award for Freiburg Hydrologist
The researcher Andreas Hartmann to receive award from the European Geosciences Union
Freiburg, Nov 13, 2019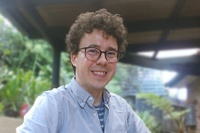 Andreas Hartmann. Photo: private
Junior professor Dr. Andreas Hartmann from the Chair of Hydrological Modelling and Water Resources at the University of Freiburg will be honored with the Arne Richter Award for Outstanding Early Career Scientists 2020. The European Geosciences Union (EGU) recognizes scientific achievements of young scientists in the entire spectrum of geosciences. Hartmann research focuses on the hydrology of karst landscapes that develop from the weathering of carbonate rocks. The prize will be awarded at the EGU General Assembly on May 3-8, 2020 in Vienna, Austria.
With roughly 20,000 members, the EGU is the largest geoscientific association in Europe. The award is one of the most important awards for early career geoscientists. The professional divisions of the EGU initially evaluate all nominations individually and forward a candidate to the award committee. The committee selects the four best persons from all professional divisions whose performance is honored with the Arne Richter Award at the level of the entire European Geosciences Union. The remaining candidates are honored at the level of the respective professional division.
Groundwater from karst regions is an important drinking water resource. In fact, a quarter of the world's population is either entirely or partially dependent on it. However, fissures and cracks in the rock caused by weathering can quickly lead to groundwater pollution in these areas. The existing knowledge about karst hydrology is largely site-specific, which makes a scientific basis for regional or continental water management difficult.
Hartmann has succeeded in transferring the hydrological characterization of areas to models of different sizes, from individual basins to entire continents. His results provide the first reliable information on the future of the Earth's karst water resources on a larger scale. They also open up new possibilities to investigate karst water resources on large scales relevant for water and environmental policy and thus ensure a sustainable water supply in these regions.
Andreas Hartmann heads an Emmy Noether research group at the Faculty of Environment and Natural Resources at the University of Freiburg. The German Research Foundation has funded the project with a total of 1.5 million euros since 2017.
European Geosciences Union's official announcement