Christian Schachtrup to Become a Heisenberg Professor
Schachtrup's lab researches on molecular cell biology and neuroscience
Freiburg, Dec 15, 2017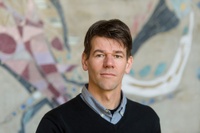 Christian Schachtrup. Photo: Patrick Seeger
Dr. Christian Schachtrup will take up the newly created position of Heisenberg Professor for Anatomy with a focus on experimental neuroregeneration (the regeneration of nerve cells) at the University of Freiburg. The new professorship is in the Faculty of Medicine's Institute for Anatomy and Cell Biology, where Schachtrup, who researches the restoration of lost nerve cell functions, has been an independent research group leader since 2010. The professorship is sponsored by the Deutsche Forschungsgemenschaft (German Research Foundation, or DFG) for a period of five years, after which Schachtrup has the opportunity to become a full professor at the Faculty of Medicine pending a positive evaluation.
In his research, Schachtrup analyzes molecular and cellular mechanisms associated with diseases affecting the central nervous system. These diseases are often accompanied by an injury that opens the blood-brain barrier. Schachtrup studies changes in the cell environment within the brain and spinal cord when injuries with local internal bleeding occur. He also investigates what molecular signaling cascades are triggered, focusing especially on the function of astrocytes, which are star-shaped cells that support neurons (nerve cells) in a healthy body. When a person suffers an injury, the astrocytes are activated by the blood protein fibrinogen and play an important role in the formation of scars. In CNS disease, neural stem cells can also become newly formed astrocytes instead of neurons and the Schachtrup lab aims to understand the undelying mechanisms and the functions of these new astrocytes. Schachtrup's goal is to improve neuroregeneration with the help of medications or cell replacement therapy in the future. He is also a member of Entwicklung, Funktion und Potenzial von myeloiden Zellen im zentralen Nervensystem (NeuroMac) (Development, Function and Potential of Myeloid Cells in the Central Nervous System), a Collaborative Research Center headed by the Faculty of Medicine and the University Medical Center Freiburg.
Christian Schachtrup is a biologist with a PhD from the Institute for Biochemistry at the University of Münster. For his doctoral thesis, he studied the role of fatty-acid binding proteins (FABPs) in the lungs. After completing his degree, he was a visiting scientist in Japan, where he researched on the role of fatty-acid binding proteins in microglia, the cells that form the brain's first immune response. From 2005 to 2010, he was a postdoc researcher at the University of California San Diego and the Gladstone Institute of Neurological Disease in San Francisco. During this time, he researched on the communication between astrocytes and neurons as well as the molecular mechanisms of the blood protein fibrinogen and the role of dynamic changes in nuclear pores during astrocyte scar formation.
For more information about Christian Schachtrup, please visit:
www.anatomie2.uni-freiburg.de/en/staff/schachtrup