Bringing in reinforcements to the Faculty of Medicine
Two new professors have started researching and teaching in Freiburg
Freiburg, Nov 27, 2017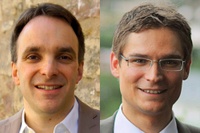 Harald Binder (left), Matthias Eder. Photos: private
Harald Binder was appointed the professorship for medical biometry and statistics in the Faculty of Medicine on May 1, 2017. The professorship is connected to the management of the institute of the same name at the University Medical Center Freiburg. The focus of Binder's research is machine learning in the area of biomedical data. Among other things, he develops algorithms that connect clinical progress data with molecular measurements. In Freiburg, Binder intends to establish approaches to artificial intelligence that find patterns in large amounts of data, thus indicating, for example, the optimal time for therapeutic adjustments in patients.
Binder studied psychology at the University of Regensburg and mathematical behavioral science at the University of California in Irvine, California in the US. He got his doctoral degree in statistics in 2006 at the Ludwig-Maximilians-Universität München. From 2006 to 2011 he was a research assistant at the University of Freiburg where he habilitated in 2011. Most recently, Binder was Professor of Medical Biometry at Johannes Gutenberg University Mainz.
Since 1 May 2017, Matthias Eder has been Professor of Radiopharmaceutical Development at the Faculty of Medicine, which has been established together with the German Cancer Research Center. It is located in the Department of Nuclear Medicine at the University Hospital Freiburg as part of Freiburg's German Consortium for Translational Cancer Research. Eder develops novel radiopharmaceutical drugs for the diagnosis and treatment of cancer. In Freiburg he will work together in research collaborations such as the Comprehensive Cancer Center Freiburg (CCCF) and the Collaborative Research Center "Control of Cell Motility in Morphogenesis, Tumor Invasion and Metastasis". There, he will develop biotechnological methods to develop radiopharmaceuticals against specific components of tumor cells, thus making it possible to visualize tumor-specific changes at the molecular level through nuclear medicine imaging techniques.
Eder studied biotechnology at the University of Applied Sciences in Mannheim and got his PhD at Heidelberg University in 2009. Thereafter, he was a research associate at the German Cancer Research Center in Heidelberg, where he headed the working group "Radiopharmaceutical Chemistry" from 2013 to 2015.
Contact:
Prof. Dr. Harald Binder
Institute of Medical Biometry and Statistics
University Medical Center Freiburg
Tel.: 0761/203-6662
E-Mail: binderh@imbi.uni-freiburg.de
Prof. Dr. Matthias Eder
Department of Nuclear Medicine
University Medical Center Freiburg
Tel.: 0761/270-74220
E-Mail: matthias.eder@uniklinik-freiburg.de