Anselm Kiefer to receive an honorary doctorate
The Faculties of Philology and Philosophy at the University of Freiburg will honor the artist's work
Freiburg, Dec 19, 2017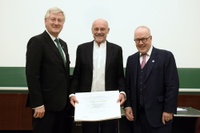 From left to right: Rektor Prof. Dr. Hans-Jochen Schiewer, Anselm Kiefer und Prof. Dr. Hans-Helmuth Gander. Photo: Thomas Kunz
The joint commission for the Faculties of Philology and Philosophy at the University of Freiburg has awarded Prof. Anselm Kiefer an honorary doctorate, thereby honoring one of the most important German artists of our times. "The University of Freiburg is honoring Anselm Kiefer, a critical artist whose work has spurred crucial social debate. He fulfills the same claim in the visual arts that the University of Freiburg places on itself," says Rector Prof. Dr. Hans-Jochen Schiewer.
"It has been 50 years since I was last in Freiburg. The new can only emerge from memory. We are the future as long as we can do without it," says Kiefer regarding his alma mater's award. As a painter and sculptor, he draws from a broad pool of philosophical, literary, historical and mythological references. For nearly 50 years his work has promoted the aesthetic and intellectual examination of Judeo-Christian culture. "Anselm Kiefer's transformative and thematically broad-based work offers multiple illuminating insights. It is a true pleasure for us at the Faculty of Philosophy to distinguish Kiefer with an honorary doctorate and to honor him as the extraordinary artist and contemporary intellect he is," says Prof. Dr. Hans-Helmuth Gander, Dean of the Faculty of Philosophy.
Kiefer began to study law and Romance languages and literature at the University of Freiburg in 1965. At the same time he studied painting under Peter Dreher at the field office of the State Academy of Fine Arts Karlsruhe in Freiburg from 1966 to 1968. Thereafter, he switched to Karlsruhe where he became a student of Horst Antes at the art academy. Kiefer had his international breakthrough in 1980 when he represented the Federal Republic of Germany together with Georg Baselitz at the Venice Biennale. In 2006 Kiefer received the Merit Cross 1st Class of the Order of Merit of the Federal Republic of Germany and in 2008 the Peace Prize of the German Book Trade. Starting in the winter semester 2010/2011, Anselm Kiefer was appointed professor on the Collège de France in Paris, France, an institution rich with tradition.