Acceptance of prostheses; bioeconomy debate
Lena Kulla and Alex Giurca awarded the 2019 Erasmus Prize
Freiburg, Jul 11, 2019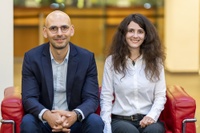 Alex Giurca and Lena Kulla (left to right). Photo: Patrick Seeger
The University College Freiburg (UCF) of the University of Freiburg has awarded the 2019 Erasmus Prize for the Liberal Arts and Sciences to Lena Kulla and Dr. Alex Giurca. Kulla is a graduate of the Liberal Arts and Sciences degree program, and Giurca obtained his PhD from the Chair of Forest and Environmental Policy of the University of Freiburg. The UCF awards the prize annually in two categories, that cover both Bachelor and Master theses as well as dissertations and postdoctoral work, for the exemplary treatment of a subject including interdisciplinary aspects, and for enabling bridges to be built between different disciplines. The award is endowed with prize money of 1,500 euros and 3,500 euros respectively, and is sponsored by the Freiburg-Nördlicher Breisgau Sparkasse.
In her thesis, Lena Kulla studied everyday circumstances that influence use of limb prostheses and may lead to non-use. From this she worked out the acceptance or rejection of prostheses from various points of view. This is a valuable contribution to a socially important question: what can the health sector do to make provision more efficient and at the same time save on costs – since every unused prosthesis costs money which could be better used elsewhere.
Dr. Alex Giurca analyzed the concept of the forest-based bioeconomy from an interdisciplinary perspective in his dissertation. His work drew on approaches from political science, economics and management. In addition, Giurca focused on different networks of players in three European countries – Germany, Finland and Sweden – and examines how the bioeconomy discourse is shaped and by whom. His results show that the relationship of the forest and wood sectors to the bioeconomy differs in the three countries. Giurca has found that in Germany in particular, specialized networks of players from the chemistry and biotechnology industry dominate the debate, and other players are only marginally relevant.