A New Project Manager for MuseOn
Art historian expands Freiburg's training program for Museum Studies
Freiburg, Jun 20, 2018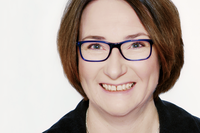 Ilka Backmeister-Collacott. Photo: private
Dr. Ilka Backmeister-Collacott is the new academic project manager of "museOn – weiterbildung & netzwerk". It is her job to expand the training program of the University of Freiburg for Museum Studies and ensure a sustainable operation.
Ilka Backmeister-Collacott studied art history and archaeology in Freiburg and in Florence, Italy, and after completing her Master's degree worked on the preservation of historical monuments. In 2005 she obtained her PhD at the Technical University of Munich (TUM), Institut für Baugeschichte, Kunstgeschichte, Restaurierung with the Architekturmuseum. She gained practical museum experience at amongst others the Architekturmuseum of TUM and the Übersee-Museum Bremen. Since 2008 she has run her own agency working with museums of art, culture and the history of technology. In this period she has provided support for many exhibition projects – as the curator for an exhibition conceived and realized together with teenagers at the Alpine Museum in Munich, as well as editing publications to accompany exhibitions, and as the editor of exhibition texts for various audiences.
"Her background means that Ilka Backmeister-Collacott brings not only museum experience and useful networks with her, but given her self-reliance she also has the appropriate expertise to manage the training program and develop a long-term model for further development and sustainable use in museum work. We are delighted about this cooperation," says the professor of classical archaeology Prof. Dr. Ralf von den Hoff, who is a member of the steering group and the project manager with legal responsibility for museOn.
Background information on museOn – training & network
Overseeing, collecting, exhibiting, teaching, marketing, managing and digitizing: in recent years the team from museOn has developed a training module for each of these tasks, working together with more than 40 experts in the theory and practice of museum work as well as with professors from the University of Freiburg. Each of the 40 courses is allocated to one of these modules. This system enables tailoring the training to individual interests and the acquisition of various degrees: participants can study courses individually or combine them into a certificate in Museum Studies. The offer is designed for professionals working in museums or in the area of exhibits and collections who wish to professionalize their work and expand their skill sets. It is also designed for people who would like to respond to changing external and societal circumstances and cultural diversity or to the structural impact digitization is having, in order to further develop their abilities in the workplace. The Federal Ministry for Education and Research (BMBF) is sponsoring the training program of the University of Freiburg as part of its "Aufstieg durch Bildung: offene Hochschulen" program, from February 2018 until July 2020.
Article in uni'wissen research magazine (2016)
Contact:
Dr. Ilka Backmeister-Collacott
museOn – weiterbildung & netzwerk
University of Freiburg
Tel.: +49 761 203-98612
e-mail: museon@uni-freiburg.de