Sharing Knowledge Between Campus and Citizens
Researchers at the University of Freiburg can receive funding for knowledge transfer ideas
Freiburg, Feb 18, 2020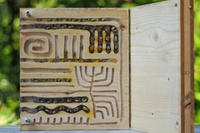 Photo: Felix Fornoff
The University of Freiburg is again planning in 2020 to develop and implement new teaching formats involving the reciprocal transfer of knowledge between researchers and the public. Researchers at the university can submit their proposals until 28th March.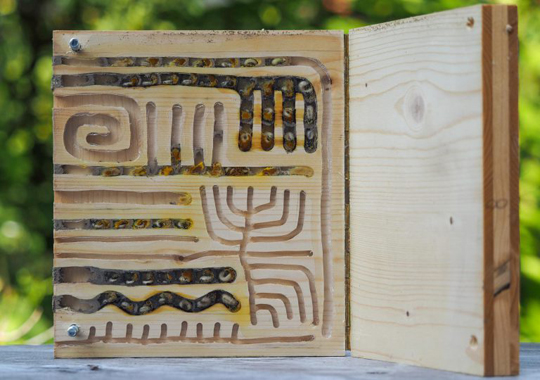 Interlacing pathways: researchers and students gather data on pollinators such as wild bees. Photo: Felix Fornoff
The Federal Ministry of Education and Research (BMBF) aims to increase its support for cooperation between research institutions and citizens. For its part, the University of Freiburg offers a range of formats such as the Studium Generale, Colloquium Politicum and Freiburger Horizonte. Besides the one-sided transfer of knowledge from campus to society typical of such lecture series, in 2019 the university also strengthened its reciprocal approaches, which involve research in turn gaining from the interest, cooperation and experiences of stakeholders. Vice president Prof. Dr. Juliane Besters-Dilger believes, "Science is most effective when it has an impact on society and is stimulated by it." Consequently, the university has expanded six existing projects such as dialog sessions, school projects and webinars. There is a total of 20,000 euros available to establish new projects and develop existing ones in 2020.
The new formats will enable an open exchange between researchers and the public. For example, academics will work together with citizens in "Living Labs", with both sides aiming to learn from each other. In "Citizen Science", a form of open science, interested laypeople can contribute work on projects and provide their observations, take measurements and analyze data.
Small Homes in the Post
One successful example of a teaching format that has been shaped by knowledge transfer is the "School bug hotel" developed by Dr. Felix Fornoff of the Chair of Nature Conservation and Landscape Ecology: school pupils at the UWC Robert Bosch College have been working with Freiburg researchers since 2018 to gather data on pollinators such as wild bees. The group has sent pairs of bug hotels to schools all over Germany. After the summer the schools each sent one hotel back. From the tiny inhabitants it is possible to analyze the species and number of insects present at each school site. Fornoff paid the postage for shipping a total of 320 packages from the BMBF funding.
Working Together for Results
With this project the group records, for example, how new species spread, what their eating habits are and what are their limits of distribution. If these observations are continued for a lengthy period, the scientists will be able to record population trends and establish the causes of the decline in insects. Landscape ecologist Fornoff sees sustainable effects from this form of reciprocal knowledge transfer, especially amongst young people, "The school pupils are now not only familiar with the ecology of bees and wasps, but also impressed by the meticulous research and scope of scientific research projects. Schools throughout Germany are enjoying contributing to the results and playing a part in a research project."
Patrick Siegert
Invitation

The Vice President for Teaching and Learning invites researchers at the University of Freiburg to propose concepts for reciprocal knowledge transfer. The maximum amount of funding for a successful suggestion is 5,000 euros. A selection committee will assess the concepts and announce their decision within three weeks. Closing date for applications is 28th March 2020.

More information

Video on Felix Fornoff's teaching project