"No lecture hall will be empty in the winter semester"
Legal regulations and low incidence levels open up more opportunities for classroom instruction
Freiburg, Aug 25, 2021
Students, teachers and university administrators in Baden-Württemberg have waited many months for forward-looking signals and have also publicly exerted pressure: With the new legal regulations, politicians have now created a basis on which universities can reliably plan for the 2021/22 winter semester. What prospects for classroom instruction are now opening up at the University of Freiburg?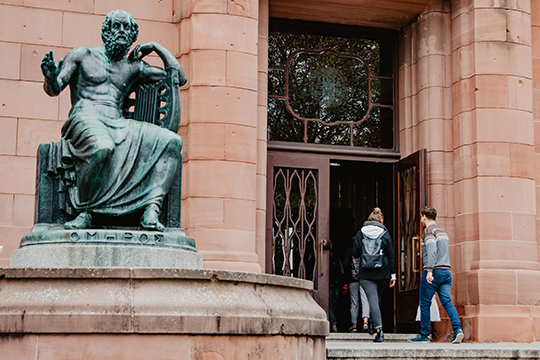 Photo: Sandra Meyndt
"No lecture hall will be empty in the winter semester," says Prof. Dr. Michael Schwarze, Vice-President for Academic Affairs. From October 2021, the University of Freiburg wants to enable as much classroom instruction as possible as part of a hybrid study program. "The new policy has laid the necessary foundation for reliable planning," explains Schwarze. Together with the vice presidents of the other universities in Baden-Württemberg, he has worked to ensure that the scope is widened.
The Corona Ordinance on Study Operations now allows for more exceptions for classroom instruction, and the advancing vaccination campaign gives hope for more openings and more opportunities to meet in person: "We therefore ask everyone, students and teachers alike, to make use of the numerous free vaccination opportunities. It has never been as easy and straightforward as it is now to get an appointment," emphasizes the vice president.
Michael Schwarze himself hopes for more in person contact. The Romance studies professor moved to Freiburg from Constance a few months ago; he took up his post at the University of Freiburg in May 2021. "Unfortunately, I only know the Freiburg campus under Corona conditions, largely empty. With planning certainty for the winter semester, we would now like to ask students to return to Freiburg in time for the start of the semester and to be here on site to help shape University life and classroom instruction."
Vaccinated, recovered, tested
Schwarze is optimistic about the legal regulations, but he emphasizes: "The essential prerequisite for more classroom instruction is that the overall pandemic situation does not deteriorate drastically again." So much for the restriction, but what exactly is possible for the winter semester? The updated Corona Ordinance on Study Operations provides that rooms can be used in a significantly consolidated manner compared to the past three semesters if 3G proof (3G: vaccinated, recovered, tested) is presented and contact information is collected. Even then, a minimum distance of 1.5 meters is still mandatory. If this distance cannot be maintained, the participants must wear mouth and nose coverings. Students may submit 3G proof electronically or in paper form, and the data will not be stored.
Classroom instruction and digital learning
All lecturers at the University of Freiburg have the opportunity to offer such courses, provided that rooms are available. To ensure this, the room and lecture hall allocation team will work with the faculties in August to adjust the planning for room allocation. "The health of our students and employees is our top priority," Schwarze says.
The vice president sent a letter to University members at the end of July informing them of the details of the room occupancy planning process. Despite the prospect of more classroom instruction, digital learning will remain a central aspect of plans for the winter semester: Instructors can still choose to hold their courses digitally or in hybrid formats as well, Schwarze explains. "This could be a good model, for example, for particularly large lectures for which there are not enough lecture halls."
Rimma Gerenstein