Learning differently
Two Freiburg students made a film about women in local politics
Freiburg, Jul 15, 2019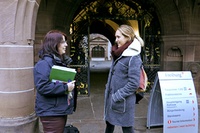 Imparting knowledge emotionally, cognitively and visually: Charlotte Weinreich and Rosa-Lena Lange had this goal when they started their video project. As part of their studies at the University College Freiburg, they accompanied city councilwoman Monika Stein with their camera during the election campaign. The students not only learned how to make films, but also a lot about local politics and the difference in the debate culture between women and men.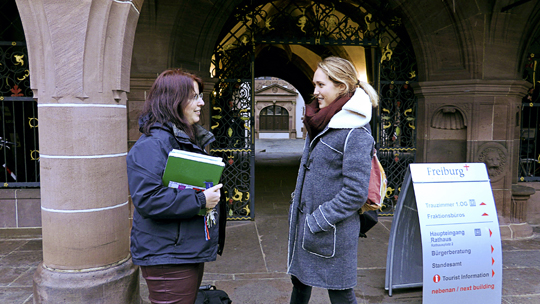 The short documentary describes the situation of women who are involved in local politics. Source: Charlotte Weinreich, Rosa-Lena Lange
The camera pans over a long series of portraits of the mayors of Freiburg that adorn the walls of the Freiburg City Hall. A woman walks past them and dares to follow in the footsteps of these men. With more than 26 percent of the votes, Monika Stein, city councilwoman of the Green Alternative (GAF), achieved a remarkable result in the mayoral election last year.
Charlotte Weinreich and Rosa-Lena Lange, students at the University College Freiburg (UCF) of the University of Freiburg, have been able to win the secondary school teacher as the leading protagonist for their twelve-minute documentary film about "Women in Local Politics." They have learnt a lot - about their own role, about documentary filmmaking, about the "local democratic space" that cooperation in a local parliament opens up and which they allow the political scientist Dr. Beate Rosenzweig to promote. They chose her as the expert to broaden the "view of the big picture" that is reflected in the local politician's personal history.
"Moment of epiphany" during filming
Originally they had in mind a portrait of a person who would tell their story. But in Freiburg the head mayoral election was just over, and a year later the local elections were due. The relevance of the topic became obvious. Especially since they claimed that "local politics is obviously unattractive for our generation." Few students know about this according to Lange's observations: "They are more interested in global contexts." A little tutoring couldn't hurt. And what could be more suitable than a documentary film with its possibilities to convey knowledge by other means on different levels - emotional, cognitive, visual?
The result is a video that both tells a story and provides a lot of information. Many a shooting day also ended for the filmmakers themselves with a new realization: about the different kind of debate culture of men and women in the local council, for example, and the parallels that suddenly opened up to their own university environment: the dominant appearance of men who interrupt others much more quickly. Women who only speak when they really have something to say and have prepared well for it. "The patterns are very similar," says Weinreich.
From long shots to close-ups
It's lucky for them that there were two of them: Weinreich already had a little journalist training having written contributions for uniTV and Radio Dreyeckland. Lange was familiar with the aesthetics of documentary film after a course during a year abroad in London. "We could learn a lot from each other," says Weinreich. Camera shots ranging from long shots to close-ups, changing locations and interviewees ensure a lively narrative rhythm. Image and sound refer to each other.
Nevertheless: "We are not professionals," they had to experience painfully. Several times in the evening, when they "totally finished" looking at their material again, they noticed that "the light was terrible and the sound bad." In those "phases of doubt," they encouraged each other. "We've learned not to give up," Lange explains. It took them almost six months to finish their film, made in cooperation with uniTV.
"Practical Projects" as academic performance
The young women realized rather late in the game that they could have their film recognized for academic credit. The main motivation was filmmaking, not the hunt for ECTS points, said the two students at the UCF who chose "governance" as their concentration, i.e. politics, economics, law. After all, their "Independent Study Project" earned them six points. In the four-year bachelor's program "Liberal Arts and Sciences" (LAS), a compulsory elective leaves room for all kinds of ideas: an in-depth lecture at the University, an internship or a practical project such as that of the two students.
Dr. Ryan Plumley, who is responsible for supervising such "practical projects", has seen an "unbelievably diverse range." About a quarter of the 80 new students admitted each year opt for these projects. The majority prefers a classic internship in the Scottish Parliament, a political party in Austria or at a winery in southern Baden. A student who ran for the local council turned her election campaign into a practical project. Plumley thinks it is "really cool" what Weinreich and Lange have put together. He emphasizes that it is neither a question of graded examination results nor of a research project, but rather of an intellectual examination of the subject matter of one's choice - for example in a concluding short essay: "Even if it had gone totally wrong, it wouldn't have been a failure," explains the lecturer. "Because a learning process definitely took place."
Anita Rüffer
898bd1a7dc0e32dbf856c7e8503bc2f3