Honouring Excellent Doctoral Supervision
At the official opening of the academic year on 18th October 2023 Prof. Dr. Racha Kirakosian and Prof. Dr. Frank Hutter will each receive an award for excellent doctoral supervision
Freiburg, Oct 12, 2023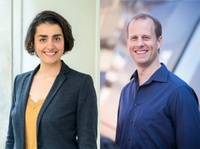 Racha Kirakosian (left) and Frank Hutter (right). Photo Kirakosian: Die Junge Akademie/Peter Himsel. Photo Hutter: Klaus Polkowski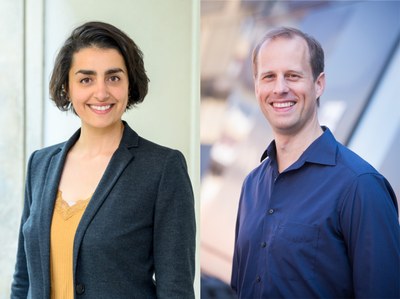 Racha Kirakosian (left) and Frank Hutter (right). Photo Kirakosian: Die Junge Akademie/Peter Himsel. Photo Hutter: Klaus Polkowski
This year, the University of Freiburg will be awarding the prize for excellent doctoral supervision for the first time. The two winners are Prof. Dr. Racha Kirakosian, Professor of German Medieval Studies, and Prof. Dr. Frank Hutter, Professor of Machine Learning. The prize, which is endowed with €2,000, is the university's way of honouring extraordinary commitment to providing support for doctoral candidates. In the spring of 2023, the International Graduate Academy (IGA) called on doctoral candidates to nominate doctoral supervisors for the award. A total of 71 nominations were received. Each nomination required at least two doctoral candidates to set out how their supervisors were providing them with excellent support. A panel chaired by the Vice Rector for Research and Innovation, Prof. Dr. Stefan Rensing, selected the winners from the anonymised proposals. The process involved representatives of the professorate, postdocs, doctoral candidates, employees of the IGA and of the Department of Equality, Diversity and Academic Personnel Development. "The new prize puts the spotlight on outstanding examples of excellent supervision. This reinforces awareness that good supervision is possible and honours the dedication of supervisors," explains Vice Rector Rensing. The award will take place annually from now on – this year it will be given at the official opening of the academic year on 18th October 2023.
Doctoral candidates' trust is a gift
The time taken on a doctorate shapes the scientific career that follows. "Supervisors bear a special responsibility because of the one-to-one support," says Hutter. Kirakosian agrees, "The doctoral candidates place great trust in me. I believe that's a gift." In conversation the winners emphasise that the doctorate is a period of massive adjustment – for both parties: "In the beginning, the doctoral candidates learn to implement my ideas, in the end they bring me new ones," explains Hutter. However, the supervisors are not alone in providing guidance during this dynamic period. It is equally important that doctoral candidates network and support one another. "I encourage the doctoral candidates to be generous with their knowledge," says Kirakosian.
Respectful, trusting communication is key
So what exactly is good supervision during a doctorate? In 2020 the IGA published its Guidelines for Good Supervision of Doctoral Candidates, offering guidance to both supervisors and doctoral candidates. This states that respectful, trusting communication is key at all stages of a doctorate. The guidelines highlight that expert support involves more than just regular discussions on progress with research: supervisors also convey the principles of good scientific practice and introduce doctoral candidates to the scientific community by encouraging them to take part in conferences and involving them in research collaborations.
"The time spent on a doctorate can be very stressful. So it is even more important that supervisors are willing to help their doctoral candidates when they face challenges," says Raghu Rajan, who is taking his doctorate under Hutter. "A supervisor should give support regardless of one's academic plans for the future, and point out options without being pushy about them," add Lea von Berg and Meret Wüthrich, doctoral candidates under Kirakosian.
University supports good doctoral supervision
As well as the supervisors, the university also plays an important part in offering doctoral candidates the best possible conditions. Katharina Eggensperger and Matthias Feurer emphasise the helpfulness of options designed specifically for doctoral candidates: "Seminars from the IGA's programme aren't just relevant in terms of content, they also enable us to get to know doctoral candidates from other groups and disciplines and share ideas with them." Eggensperger and Feurer gained their doctorates under Hutter in 2022.
Sadly, the supervision relationship is not always a success. However, the university also provides support in these cases. If a doctoral candidate has a negative experience with their supervisor, they can turn first of all to the IGA, under the ombudsperson procedure for doctoral candidates and supervisors. An initial meeting with IGA staff sounds out a range of solutions. In the second step, the university's two ombudspersons provide support in cases of conflict. The ombudspersons are retired professors who take a non-partisan role in conflicts and if necessary continue to provide help if a unanimous solution cannot be reached.
In future, the University of Freiburg intends to further increase its support for good doctoral supervision. So the university management is examining how the Guidelines for Good Supervision of Doctoral Candidates can be transformed from guidelines into binding standards, says Rensing. Applicants for professorial roles will also be assessed according to the support they provide doctoral candidates: What value do they place on supervision? Have they taken appropriate training? What were the results of evalution? Appointment committees are already considering questions like these in their decisions. In two years' time, a panel will evaluate the process and see what has proven successful.