Health in the City
A new program of study – Global Urban Health – investigates ways to reduce health risks in cities
Freiburg, Mar 09, 2017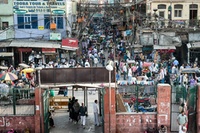 Photo: Klaus Polkowski
Air pollution, fast food and stress are just a few of the factors detrimental to urban dwellers' health. The more urbanization increases, the more contagious and chronic diseases, psychological ailments and violence, gain in significance. In the winter semester of 2016/17, the University of Freiburg's Faculty of Humanities began offering a Master's degree program Global Urban Health. The one-year course of study addresses the health challenges posed by urbanization. Its students learn to mitigate the risks and threats to health posed by living in modern cities.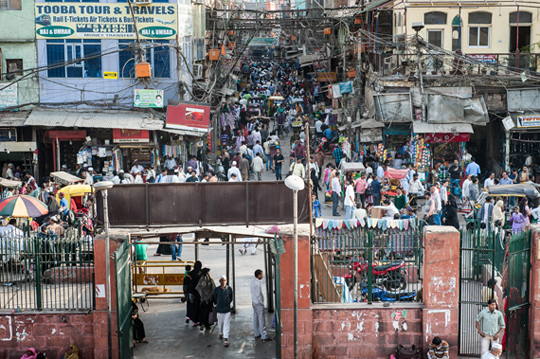 New Delhi, India: Students learn how health risks – those caused by polluted air for example – can be reduced in metropolitan areas. Photo: Klaus Polkowski

The Center for Medicine and Society is organizing the English-language, interdisciplinary program. In the mornings, students examine theories that they then apply in practice in the afternoon. "There was a statistics course this morning," says Dr. Sonia Diaz-Monsalve, who coordinates the instructional offerings of the Global Urban Health program and is responsible for quality control as well. She continues, "After the lunch break, the students gather data at the cemetery. They can then analyze it and determine, for example, at what average age people died in different decades." Guest lecturers and field trips provide further insight into urban health in real life.
Bringing knowledge back home
The prerequisites for admission are a university degree and at least two years of work experience. The tuition fee for the course is 12,000 euros. Graduates will have many employment options open to them, for example in development aid, medicine, policy-making, city planning or education. "In future, with the Master's degree I will be able to work at an international level rather than just in a hospital," says student Francesca Tsai of Taiwan. "I would like to achieve that independent of its political situation, Taiwan can take part in World Health Organization events," she explains. Students from developing countries can take the knowledge they've gained back to their home countries as well.
Up to now, the program is the only one of its kind in the world. What's new about it is that it focuses specifically on health in cities with an emphasis on the developing world. "It is nevertheless important to us to examine problems from a global standpoint, because mosquitos don't recognize national borders," Diaz-Monsalve elaborates, referring to the challenges involved in controlling spread of contagious diseases. And in poor and affluent countries alike, chronic disease is becoming more evenly distributed as globalization progresses. Says Diaz-Monsalve, fast food, cigarettes and televisions are everywhere, so heart disease, cancer and diabetes are common everywhere as well. Students learn how to recognize problems and develop solutions for them. "Freiburg is an optimal location for the program," says its coordinator. The university is located relatively close to United Nations organizations headquarters. Furthermore, there are many green areas nearby and the physical activity level of the population is comparatively high. In addition to theoretical knowledge and methods of empirical analysis, dealing with the media and policy-makers effectively is part of the course curriculum.
In the first year that the course has been offered, three hundred people from different professional fields applied for the 20 available course places. The first group comes from ten different countries – among those are Argentina, Bangladesh and Ethiopia – and five continents. "The intercultural differences are a wonderful experience for all of us," says Diaz-Monsalve, because the students have first-hand experience with some of the problems being investigated. This can be helpful in terms of developing promising solutions. Says the course coordinator, "In certain regions, mosquito nets are not necessarily an effective means of preventing mosquito bites because their white color is associated with death and people don't like to sleep under them." She adds that this example shows how important it is to approach the problem to be addressed from different perspectives.
Sarah Schwarzkopf
www.zmg.uni-freiburg.de/training