Everything is a Matter of Perspective
The Archaeological Collection holds an exhibition designed by students
Freiburg, Mar 09, 2017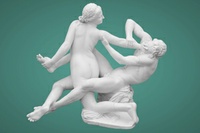 Photol: Patrick Seeger
They've been curating, organizing, designing, writing, doing layout, taking photographs, moving sculptures around, and painting a pedestal now and then. Students put more than a year of work into preparing an exhibition
Jens-Arne Dickmann, Curator of the Archaeological Collection supported the students in shaping and organizing the event. Photo: Patrick Seeger

Archaeologist Jens-Arne Dickmann had a plan when he took charge of the University of Freiburg's Archaeological Collection four years ago. The new curator's idea was that exhibition space in the basement of the Herderbau on Habsburgerstraße would not only serve as a collection for study and instruction but also function as a place for learning, or – to put it more precisely – as a workshop. Since then, the space between enormous plaster casts and display cases full of tiny original artifacts has hosted drawing courses, readings, scenic theater and concerts in addition to the usual lectures, workshops and examinations. And should a student suddenly get the urge to practice setting up a small exhibition in a corner of the collection, then that's allowed, too.
Yet Dr. Dickmann faced a greater challenge: The show, A Matter of Perspective – Ancient Sculpture Groups in Space is the finale of a large-scale teaching project that Dickmann developed and for which he received an 85 thousand euro grant from the Essen-based Stiftung Mercator. Students had been preparing for the exhibition for more than a year. The idea grew out of a one-semester writing workshop, explains the archaeologist. It was a seminar in which the students were to approach a single exhibit item by writing about it.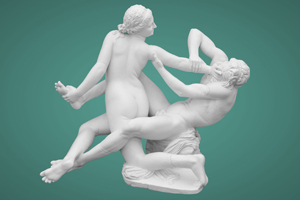 Photo: Janos Ruf
They were first to describe the object as vividly and in as much detail as possible. Then, the students had to write up scientific documentation, a catalog item, and an easily understandable information sheet for it. A semester later, the students took part in a seminar which gave them the required basic knowledge of Hellenistic sculpture groups. And because it was to be their exhibition, they were working on curating, organizing, creating, scripting, layout and photography for the event. They even had to spend an afternoon or two painting pedestals for the sculptures.
ce2aa693040f51afd40857f6e56dd9a8
Why is a satyr a particularly interesting object? And why do archeologists' hearts beat faster when a sculpture's bellybutton can be seen? Three exhibition creators present their favorite pieces.
Dickmann describes his aspirations: "I want my students to already assume scientific responsibility during their education." Decisions are made – with a few exceptions – together and democratically, after extensive discussion within the group. This is the second exhibition to be financed with funding from the grant. In the summer of 2015, Of Drinking and Carousing – Radical Changes in Ancient Feasting was the first exhibition to be held. Back then Dickmann had a team of seven students. This time, he's got twice as many. "The concept was very well-received at the Institute of Classical Archeology. The newer students were getting curious, in part because they could do a great deal by themselves, but the amount of effort involved was nevertheless enormous," says Dickmann.
Assembling a 340-page catalog, in particular, took a great deal of the students' time during the first project. Dickmann says he's convinced that all the students are motivated by far more than the few ECTS points they get for taking part in his project. The students were mulling over their texts for the catalog. If the words failed to convince, then the piece went back for reworking. Texts could be rewritten three, four and, if necessary, five times. The curator says that the young people don't always handle this with ease. Yet they stuck with it, he adds. "They wanted to learn and have shown themselves to be extremely reliable," he says.
Stephanie Streif
Special Exhibition

The special exhibition of the Archaeological Collection, A Matter of Perspective – Ancient Sculpture Groups in Space will be open to the public from 21 February until 2 July 2017. It is located in the Herderbau on Habsburgerstraße (entry between Nr. 114 and Nr. 116), 79106 Freiburg. The collection is open on Tuesdays and Thursdays from 2 p.m. to 6 p.m., and on Sundays from 11 a.m. to 5 p.m. Tours are available. Entry is free of charge.

www.archaeologische-sammlung.uni-freiburg.de