Ethics in the Pharmacy
A course gives an exemplary demonstration of why it is important for the life sciences to engage with values and morals
Freiburg, Jun 15, 2018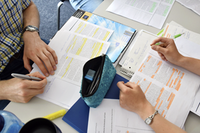 Foto: Thomas Kunz
For ten years now, Freiburg students of Pharmaceutics, Chemistry and Theology have been tackling questions of ethics in science – voluntarily. This is particularly worthwhile in the life sciences, says Prof. Dr. Michael Müller, who founded the Interdisciplinary Center for Ethics at the University of Freiburg. The question of whether actions are ethical is often neglected, however, and is still not included in the curricula for most life science subjects.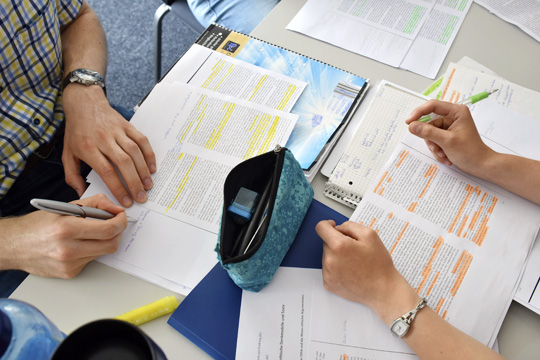 A change from the laboratory: at the Interdisciplinary Center for Ethics the focus is on textual study. Photo: Thomas Kunz
The text is difficult material – not just for students of Pharmaceutical Sciences, who usually deal with formulae on their courses: it is a Friday afternoon, twenty students are sitting in small groups in a seminar room on Freiburg's Albertstraße, discussing Immanuel Kant's "Groundwork of the Metaphysics of Morals" from 1785. The work was an attempt to develop a moral philosophy: what actions are good – and why?
Wrestling with terms
In order to tackle these issues and find potential answers, the students are wrestling with Kant's terminology: there's Purpose and Means, Duty, Inclination and the Good Will. Copied texts and notepads lie on the tables, one student is typing on a tablet. "The hypothetical imperative is far more practical than the categorical, isn't it?" she asks her colleagues. "Did Kant actually establish a value here, or was he primarily interested in the definition?"
Michael Müller is Professor of Pharmaceuticals and Medical Chemistry at the University of Freiburg. "If you want to tackle diseases, there are lots of reasons for doing it," says Müller. "The decisive factor at the moment is the monetary one." For students of Pharmaceutics, however, the fundamental issue is dealing with other reasons and arguments for or against it: should we mainly develop medicines against diseases that affect a very large number of people? Or against diseases that shorten life the most? Or those that mainly occur in your own society?
Pharmaceutics as a trailblazer
"Pharmaceutics can be a trailblazer for discussing ethical questions in science," says Müller, "because we associate health with values far more than we do physical laws, for example." However, Müller thinks that reflection like this can be worthwhile in other life sciences too – unfortunately it still doesn't usually feature in the curricula.

The students compile their knowledge in work groups. Photo: Thomas Kunz
But what can a more than 200 year old Kant text tell pharmaceutics students today? "They get to know one of the key contributions to western European ethics through him – and with it a tool that can help them to take decisions," says Dr. Dominik Baltes, Theology, whose main job is as a teacher. Together with the biologist Dr. Stefanie Houwaart, who works as a speaker at the Haus der Krebs-Selbsthilfe ‒ Bundesverband e.V., he leads the course.
Euthanasia, animal testing, genetic therapy
"We also look at scientific questions and consider what ethical tools we could apply to reach judgments," says Houwaart. The series of readings in the summer semester is followed in the winter semester by tackling practical examples: euthanasia, preimplantation diagnostics (PID), clinical studies, animal testing, genetic therapy.
These issues can't be answered with a simple yes or no, says Houwaart, but demand ethical reflection on the many shades of gray as well as on one's own point of view, "We go in with an open mind and often come out with an open mind too – but we are wiser than before." Discussions like this, without clear answers, are a rare experience for scientists, says Baltes, "Of course, in the laboratory you want results."
When an action is morally good
In the seminar room the work groups have now pooled their knowledge: Kant was concerned about the Good Will in an action, says a student. Baltes proposes "Intention" as a more modern translation; by this, Kant meant the good in people before any experience. He summarizes, "Regardless whether the situation turns out good or bad – as long as there is Good Will behind it, the action is also morally good." For Kant this is a key point. By contrast, other ethical concepts were not concerned with the intention but with the actual consequences of an action.
In the reading sessions, besides Kant's texts the students also read extracts from the "Introduction to the Principles of Morals and Legislation" by the English philosopher and social reformer Jeremy Bentham or from "The Principle of Sustainability" by Markus Vogt, a contemporary work with an ethical and theological perspective.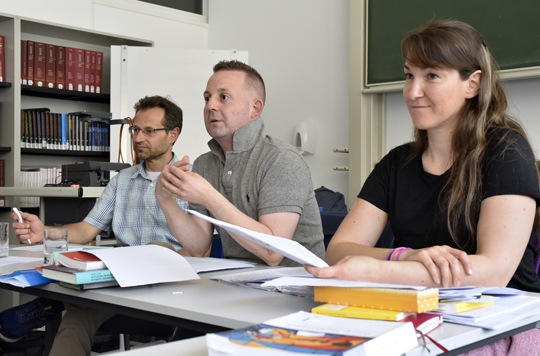 Initiator Michael Müller (left) from the Institute of Pharmaceutical Sciences leads the course in the 2018 summer semester together with theologist Dominik Baltes and biologist Stefanie Houwaart. Photo: Thomas Kunz
Besides the initiator Michael Müller, the course came about with the help of Professor of Public Law Andreas Voßkuhle – since 2010 President of the Federal Constitutional Court – and Professor of Moral Theology Eberhard Schockenhoff. Over the past ten years its teachers have included Prof. Dr. Giovanni Maio from the Institute of Medical Ethics and Medical History, Prof. Dr. Reiner Marquard, former rector of the Protestant University of Applied Sciences Freiburg, and Dr. Philippe Merz of the Thales Academy. In the 2018/19 winter semester, Prof. Dr. Andreas Barner, Chairman of the Freiburg University Council and until 2016 speaker for the management of the pharmaceutical company Boehringer Ingelheim, will be assisting with teaching.
New specialization on Master's degree
Soon, the course will become compulsory for some students, as the Ethics and Sustainability module: from next winter semester it will be on the examination program for a new specialization on the Pharmaceutical Sciences Master's degree, titled "Regulatory Affairs and Drug Development", and dealing with the development and licensing of medicines.
For the time being, however, students will not receive any points for their Pharmaceutics state examination. So why do they continue to struggle with Kant and his ilk in a seminar room on a Friday afternoon? "Otherwise there's no connection between ethics and what we learn on our studies," says Johanna Greinke. "For instance, I don't believe animal testing is morally good, but I can see that sometimes it's necessary. Everyone has their own ethical ideas, and it's good to reflect on them and develop the foundations for a discussion." Her fellow student Jakob Steff adds, "And sometimes it's just nice to stop thinking about science for a moment and read texts."
Thomas Goebel