Deciding to Teach
OSEL, the online self-reflexion tool, offers guidance for student teachers
Freiburg, Jul 04, 2019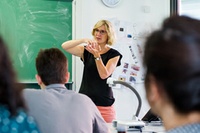 Photo: Klaus Polkowski
Is this right for me? What will happen if I decide to go for it? Or not? Doubt is human, and often costs time and energy. But sometimes it can be resolved quite quickly: it takes just one and a half hours at the computer to work through the Freiburg Advanced Center of Education's (FACE) new self-reflexion tool. The program was developed for students who are thinking about taking up teacher training with the goal of a Master of Education, in other words, who want to be teachers. OSEL, as the tool developed at the University of Freiburg's Institute of Educational Sciences is called, has been available online since March 2019. OSEL stands for Online Self-reflexion Teacher Training and Teaching Profession.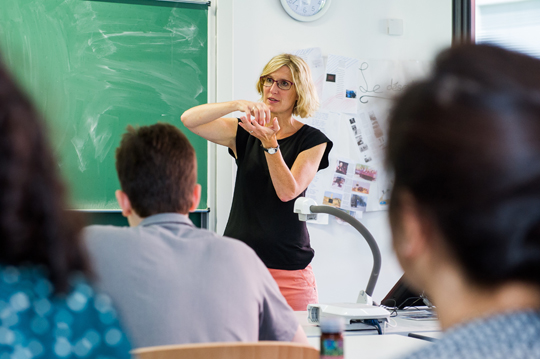 Proficient in the classroom: from the 2019/20 winter semester OSEL will be compulsory for all students on the Master of Education. Photo: Klaus Polkowski
The tool offers information on teacher training for a Master of Education degree, as offered at the university and the Freiburg University of Education – including video interviews and a questionnaire. This is designed to help students listen to their inner selves: so why do I want to teach children and teenagers anyway? What learning strategies do I use when studying? Do I feel ready to face the challenge of studying? From the 2019/20 winter semester the tool is compulsory for anyone who wishes to apply for the Master of Education. Although the preceding Bachelor degree is also teaching oriented, it contains little pedagogic content, and this is important to becoming a professional teacher.
Tick boxes for feedback
OSEL is not a suitability test, Jörg Wittwer, Professor of Empirische Lehr- und Lernforschung at the Institute of Educational Sciences, stresses. It is not about good or bad. "The idea that a teacher has to have a specific teacher personality is outmoded," says Wittwer. "What you do need, however, are professional skills, and these can be learned." Starting with the question of what is important to success in studies, they developed the tool in cooperation with IT Services and the Department of Teacher Training at the university, Wittwer explains. The project was funded by Baden-Württemberg for three years within the 'Innovative Strukturen in der Lehrerbildung stärken' funding line.
'Studieren im Lehramt' (studying while teaching) and 'Kompetenzen im Lehramt' (teaching skills) are the two largest units of the tool. The first block is concerned with the effectiveness of one's actions, the relevance of course contents as well as motivation and learning strategies. One learning activity, listed under 'kognitive Strategien' (cognitive strategies) is titled 'Das, was ich lerne, prüfe ich auch kritisch' (I review what I learn critically). Best stop and consider: how was that last semester? There wasn't really that much critical follow-up scheduled. So click 'rarely'. Once all the questions have been answered, there is feedback: here you can learn how you have done in comparison to other students or teachers who are already working, whether for instance you use cognitive strategies more or less often than they do. "OSEL is based on 250 interviews we conducted with students. They are the base with which each applicant compares themselves," explains Wittwer.
Final touch
However OSEL is not just there for comparison. The tool also explains why for example it helps when learning to drill down methodically, that is, to break down lesson content or analyze it critically. It also provides students with practical tips which usually pop up at the end of each feedback page. Some links even take you directly to the website of advice services or practical workshops at the university. "If you are interested in improving your cognitive learning strategies, the University of Freiburg offers training in special learning strategies," offers the feedback page for the learning strategies unit. "It was also important to us to offer the students practical help," says the educational scientist.
The work of Jörg Wittwer's team is not yet over: they will soon be incorporating 28 video clips of professors from various departments. And there will also be an evaluation study. This will give the final touch to OSEL, before the new semester starts.
Stephanie Streif
Online-Selbstreflexion Lehramtsstudium und Lehrer*innenberuf