The project "LoKlim" honored as finalist in the German Sustainability Award for Research
The project at the University of Freiburg supports municipalities and districts in their climate change adaption measures
Freiburg, Dec 09, 2021
The research project "Local competence development for climate change adaptation in small and medium-sized municipalities and districts," LoKlim for short, was honored as a finalist of the German Sustainability Award 2022 in the category Research. The award ceremony took place on December 3, 2021 in Düsseldorf. The project team consists of scientists from the Institute of Environmental Social Sciences and Geography at the University of Freiburg. "The innovative project LoKlim addresses needs where small and medium-sized municipalities and districts have deficits," said the jury, explaining its choice of LoKlim as a finalist. "Through the combination of situation analyses and approaches to action, municipalities and districts with limited resources are also enabled to act to the best of their ability."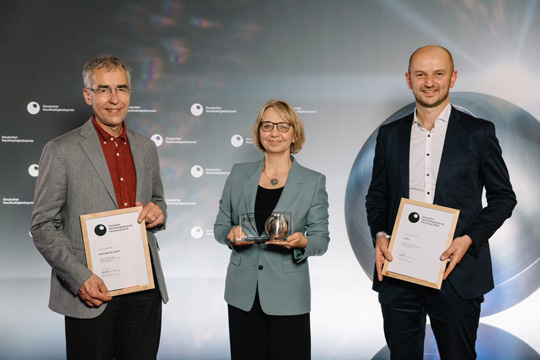 The representatives of the nominated research projects (f.l.t.r.): Prof. Dr. Stephan Pauleit for "Green City of the Future", Prof. Dr. Heidi Sinning for "HeatResilientCity" and Prof. Dr. Hartmut Fünfgeld for "LoKlim". Photo: Darius Misztal
Prof. Dr. Hartmut Fünfgeld, one of the project directors and chair for the group Geography of Global Change at the University of Freiburg, states: "We are delighted to have been nominated for the German Sustainability Award for Research, as it recognizes the importance of transdisciplinary research approaches and gives our municipal project partners and our practice-oriented research a boost."
"Science plays a central role in climate change adaption"
Prof. Dr. Daniela Kleinschmit, Vice-President for Internationalization and Sustainability, emphasizes: "In addition to climate protection, climate adaptation is also becoming an increasingly urgent task. Science also plays a central role here. I am very pleased that the LoKlim team is one of the finalists of the Sustainability Award. It strengthens the University of Freiburg in its efforts to further advance sustainability research on multiple levels."
In cooperation with three municipalities and three districts in Baden-Württemberg, LoKlim researchers analyzed their climate vulnerability in order to define guiding principles and goals for the municipal and regional level. On this basis, the researchers are working out specific adaptation measures depending on the local context, such as ensuring a reliable energy supply in the event of increased storms or safeguarding the water supply during heat waves.
Online portals provide an overview of the regional impact of climate change

In addition, the team has launched two Websites: The Local Climate Portal and the associated Knowledge Portal. In the climate portal, interested parties can view a climate checklist for each municipality in Baden-Württemberg, in which the effects of climate change are compiled and visualized in a descriptive manner. In the associated knowledge portal, readers can find information on potential fields of action and adaptation options. As a result, stakeholders receive both a scientifically sound and practical assessment of how their municipality in Baden-Württemberg will be affected by climate change.
The LoKlim project started in 2020 and is funded by the German Federal Ministry for the Environment, Nature Conservation and Nuclear Safety as part of the German Adaptation Strategy. The cities of Böblingen, Bad Krozingen and Kehl as well as the district of Böblingen, the Lake Constance district and the Enz district are participating in the project as practice partners. In addition, seven other cities support the project as network partners: Emmendingen, Freiburg, Lahr, Mannheim, Offenburg, Rastatt and Waiblingen.
About the award
The German Sustainability Award is presented by the German government and other partners to pioneers of sustainability in eight categories: companies, design, architecture, research, municipalities, packaging, start-ups and global corporate partnerships. With the German Sustainability Award for Research 2022, the Federal Ministry of Education and Research (BMBF) is awarding prizes for outstanding sustainability-related research achievements for the tenth time. This year, the prize is dedicated to the key topic of "climate resilience." The winner is the "HeatResilientCity" project, which is coordinated by the Leibniz Institute of Ecological Urban and Regional Development. The team is working on the adaptation of cities to increased heat waves and is investigating how densely built-up urban neighborhoods and the people living there can sustainably protect themselves from summer heat. A jury selected the finalists for the research award. The winner was determined via online voting in cooperation with the science program "nano" (3sat). Participants were able to vote for their favorite between October 25 and November 15, 2021.
For more information about the finalists and the research prizewinner
Additional press release about the LoKlim project
Contact:
Prof. Dr. Hartmut Fünfgeld
Institute of Environmental Social Sciences and Geography
University of Freiburg
Tel: 0761/203-3560
E-Mail: hartmut.fünfgeld@geographie.uni-freiburg.de
Franziska Becker
Office of University and Science Communications
University of Freiburg
Tel.: 0761/203-54271
E-Mail: franziska.becker@pr.uni-freiburg.de