Company Bike instead of Company Car
A guide offers companies tips on how to be more sustainable
Freiburg, May 16, 2018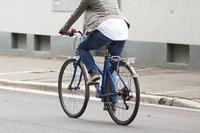 Photo: Sandra Meyndt
The guide to sustainable activity in companies and regions is designed to help SMEs to improve their social and ecological activities. The environmental scientist Dr Chantal Ruppert-Winkel and Simon Funcke from the Center for Renewable Energy at the University of Freiburg have developed the guide in collaboration with their team. In conversation with Annette Kollefrath-Persch the researchers explained what companies can do. The first step: assess the current situation.

Photo: Sandra Meyndt
Ms Ruppert-Winkel, Mr Funcke, why do companies need a guide to sustainable activity?
Simon Funcke: Many small and medium-sized enterprises or SMEs are already sustainably active in numerous areas. However they often don't yet have a strategic approach.
Chantal Ruppert-Winkel: Many companies aren't at all aware that what they do in a social or ecological field goes above and beyond what is normal. The guide is intended to show them options for how they can tackle things in a more structured and focused way and communicate about it.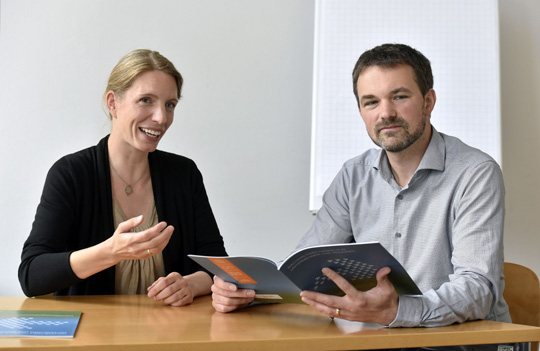 Campanies that want to be more sustainable can start on many points, say Chantal Ruppert-Winkel and Simon Funcke. The guide is intended to show them options for how they can tackle things in a more structured and focused way.
Photo: Thomas Kunz
What does "sustainable activity" mean in everyday work terms?
Ruppert-Winkel: It's important that company management conveys the subject to all staff members, to shape their awareness. It starts with putting out the lights when you leave a room.
Funcke: Of course recyclable material such as printer paper or green power should be used, or there should for example be enough bicycle parking spaces. That makes it more appealing for staff to avoid using the car to get to work. And company bikes can be offered instead of company cars.
How can companies do things strategically?
Ruppert-Winkel: First of all you need an analysis. Where are we? What are our goals? How can we do this? These are the fundamental questions. And cooperation with local communities and networks can be helpful. We offer a few examples of this in the guide. Generally there are resources for companies, but sadly they aren't well known enough.
When and how should a company communicate changes?
Funcke: The company must be aware that communication can make it vulnerable. It has to choose the right time to talk about the changes – that is, it mustn't announce the changes too soon or talk about minor measures. And there are appropriate channels for each kind of information.
Ruppert-Winkel: Exactly! The SME should ask itself above all how it will reach its staff first of all, and then the people in the region. This can work for instance through social media services.
In what areas could the University of Freiburg act more sustainably?
Ruppert-Winkel: Although a master thesis on the flow of university materials just completed by Andrew Bonneau specifically identified office and laboratory technical equipment as the greatest source of greenhouse gas emissions, there are also many other aspects that can be tackled individually on a small scale: so, individual departments should examine their coffee machines – how much electricity do they use, and do they use coffee produced by environmentally-friendly farming and Fairtrade? In addition, people should ask themselves whether there are special social and ecological measures, and whether staff know about the services and possibilities.
Funcke: And if the university creates services it shouldn't stop after the first step. It's great that there are already bicycle parking spaces. But depending on the weather and the distance, staff may want to change and wash after riding to the office. So there should be showers in the buildings, that should be known about and easy to use. All improvements should be thoroughly thought out and communicated.
Help for local communities

In a previous research project entitled "EE-Regionen: Sozialökologie der Selbstversorgung" Chantal Ruppert-Winkel together with her team created a guide designed to help local communities develop renewable energy.

Website and materials

Report in uni'wissen 01/2013 research magazine