The University of Freiburg honors the deceased honorary senator Dr. Karl V. Ullrich
The long-standing chairman of the Verband der Freunde der Universität e.V. campaigned, among other things, for a foundation geared towards students and doctoral candidates
Freiburg, Mar 14, 2022
"For decades, he was one of the most important advocates and ambassadors of the University of Freiburg," said Rector Prof. Dr. Kerstin Krieglstein, paying tribute to alumnus and honorary senator of Freiburg University Dr. Karl Valentin Ullrich. The former chief executive of the Wirtschaftsverband Industrieller Unternehmen Baden e.V. (wvib - Economic and Service Association of Industrial Enterprises in Baden) passed away on March 6, 2022, at the age of 82. As a long-time chairman of the Verband der Freunde der Universität e.V. and benefactor, he was a persistent supporter of research and teaching.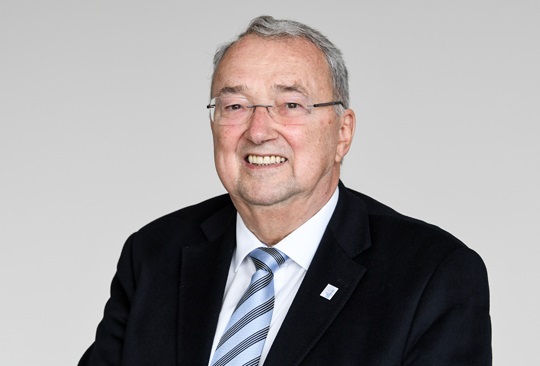 Honory senator Dr. Karl V. Ullrich. Photo: Patrick Seeger
Ullrich placed particular emphasis on promoting science, education and training in the fields of economics, behavioral sciences and philosophy at the University of Freiburg. To this end, he established the Dr. Karl Valentin Ullrich Foundation in 2018. In particular, it supports students and doctoral candidates who are working on issues of corporate social responsibility.
Ullrich studied economics in Cologne, London and Freiburg, where he also earned his doctorate. After a fellowship at Harvard University and a stint at the German Chamber of Commerce and Industry in Bonn, Ullrich returned to Freiburg in 1985, where he became head of the wvib. He was the association's chief executive until 2004.
Ullrich was committed to the University of Freiburg, among other things, as chairman of the Verband der Freunde der Universität from 2005 to 2016. In 2011, the University honored his services with the University Medal. In 2016, he received the honorary senatorship at the University of Freiburg. "With Senator Ullrich, we have lost one of our most important companions and pioneers," said Rector Krieglstein. "He will be sorely missed by the University."
For more information about Karl V. Ullrich: