More than just a picnic
The funding association Alumni Freiburg e.V. subsidizes excursion at the University of Freiburg
Freiburg, Jun 08, 2017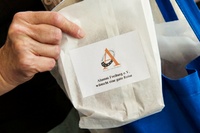 Around 80,000 alumnae and alumni have an active connection with the University of Freiburg. Their involvement and financial contributions make many things possible, including, for instance, excursions for Freiburg students.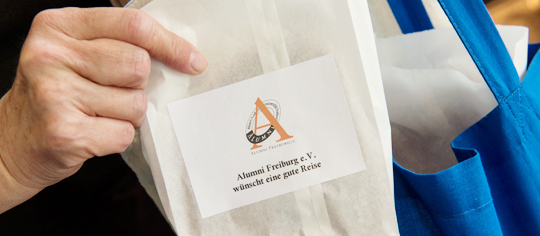 Photo: Patrick Seeger
Saturday morning, 7:30 am at the main train station in Freiburg. For 22 students standing next to track 1 the alarm clock rang much too early this morning. Somewhat tired, they are resting on their luggage and hoping that their train to Poland is on time. The group from the historic seminar at the University of Freiburg is taking a nine-day excursion; they will visit Posen, Warsaw and Auschwitz-Birkenau. Together with their seminar leaders Dr. Heinz Krieg and Dr. Heinrich Schwendemann, they will learn about Poland's history during the Middle Ages and the 19th century.
Their tired faces light up this morning as Prof. Dr. Ursula Schaefer, chairwoman of the South Baden Alumni Club and Dr. Cornelia Staeves, director of the alumni office, quickly bring pretzels for breakfast before their departure. The funding association regularly supports excursions for students in various fields with the help of donations. For their trip to Poland, the students receive a 500 Euro stipend from the former student network – and a pretzel in the palm of their hands.
Sonja Seidel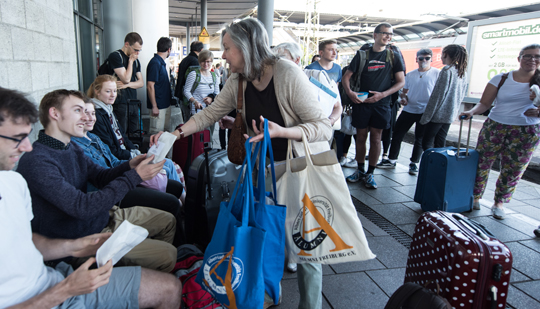 Breakfast pretzel included: the funding association Alumni e.V. makes sure the students have something to eat before their excursion to Poland. Photos: Patrick Seeger