Making Traveling to Conferences Greener
The Wissenschaftliche Gesellschaft Freiburg (Freiburg Science Society) has decided that, in the future, it will provide conference travel grants only to applicants who make eco-friendly travel plans
Freiburg, Oct 23, 2019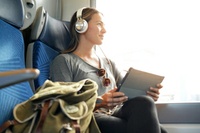 Every time we travel, especially abroad, this has a negative impact on the climate. This means that a travel grant could also be regarded as contributing to higher carbon emissions. Prof. Dr. Karl-Reinhard Volz from the Wissenschaftlichen Gesellschaft Freiburg (Freiburg Science Society) wants to help solve this by making it mandatory for people applying for travel grants to explain why their trip is really necessary, with an eye to protecting the climate. Judith Burggrabe talked to Prof. Dr. Volz about the Society's new regulation.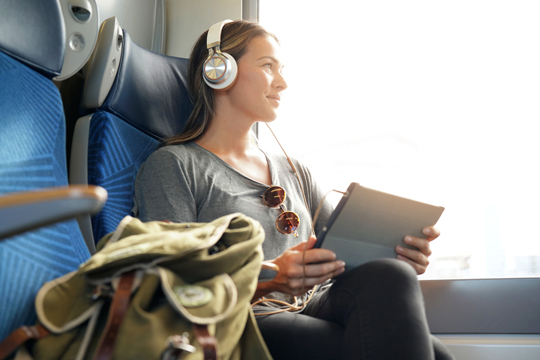 Paris, London, Berlin: It's best to travel to conferences within Europe by train. Photo: goodluz/stock.adobe.com

Prof. Dr. Volz, making traveling to conferences greener sounds great, but doesn't this make it unnecessarily difficult for researchers to be able to communicate and exchange ideas?

Karl-Reinhard Volz: Not really, it forces you to slow down and think very carefully about your carbon footprint before you go on a trip. The Wissenschaftliche Gesellschaft Freiburg is the oldest society in Germany that supports the advancement of research, particularly through grants to young researchers. Our goal is to promote the exchange of ideas, networking, and critical discussions. It's especially crucial for young researchers to present their research findings to the scientific community for critical review while they're still fresh. However, this doesn't mean that they always have to travel far to do so.

Some important conferences are only held every few years. How do they compare?
Of course, we should make a distinction. Researchers really do need to attend major conferences, and they often have to travel abroad to get there. However, there are often similar events on similar topics all around the world, whether in the US, Asia, or Europe. But there also cases when it's just not clear why someone absolutely has to go to a certain event, like when there's a conference in Hawaii, although the conference actually has nothing to do with Hawaii itself.
Why do locations like Hawaii get picked for conferences?
The organizers want to attract as many people as possible, so they look for a location that's also an interesting travel destination. That's the kind of academic tourism we don't want to promote. We want people to think about whether or not traveling to a conference is really necessary.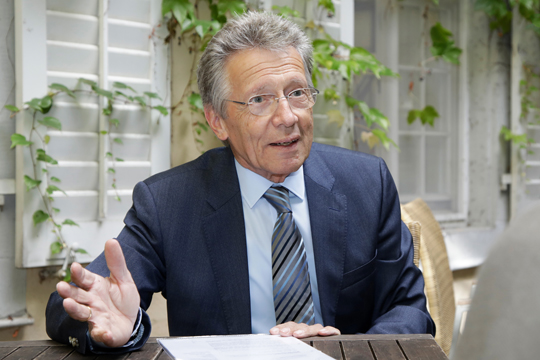 Conference organizers often select locations that are also attractive travel destinations. "That's the kind of academic tourism we don't want to promote," stresses Karl-Reinhard Volz. Photo: Ingeborg F. Lehmann
What do applicants need to consider now with the new regulation in place?
People applying for travel grants should research beforehand to see whether there is a similar conference in Europe, whether the number of people from their department going to the conference can't be reduced, and when flying is unavoidable, whether climate offsets could be an option.
Will researchers be traveling to places like Vienna, Paris, and London by train in the future?
People should always take the train within Europe. That having been said, traveling by train is much more expensive than flying these days. Many projects plan their budgets for materials and technical equipment, but they forget to plan for conferences, meaning they often don't have that kind of money for traveling. That's why we particularly want to aim our funding at young researchers who choose to travel by train, and not just hop on the next cheap flight.
Is video conferencing a suitable alternative to attending a conference?
VC could work for conferences with 10-20 people, but when transmitting talks with up to 200 people in attendance, there is no way to conduct a discussion. Networking is also difficult, although many people attending conferences often already know each other. This means that it's fine if you meet someone in person, talk to them via video conferencing two or three times, then meet them in person again.
Do you try to set a good example?
I try to avoid flying as much as I can. However, when I do fly, I make a carbon offset donation to a carbon offset project. I believe that conferences should be made greener and less excessive overall – for example, banquets aren't really necessary. Also, if conferences would lower their attendance fees, there would be more money available for greener traveling.