Guest and Nuisance
Students investigate the complex relationship Barcelona has with tourism
Freiburg, Dec 04, 2019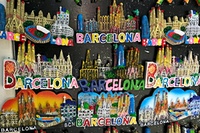 Sights like the beach at La Barceloneta, the Sagrada Família, or Park Güell and, last but not least, inexpensive flights and lodging platforms such as Airbnb, make Barcelona a popular destination for many visitors. The people who live in the Catalan city have come to take a critical view of this trend. A group of students taking part in the "Geography of Global Change" Master's program worked together with Professor Tim Freytag on site to examine how tourism affects some parts of the city. Alumni Freiburg and Freiburg's Friends of the University Association have supported this project.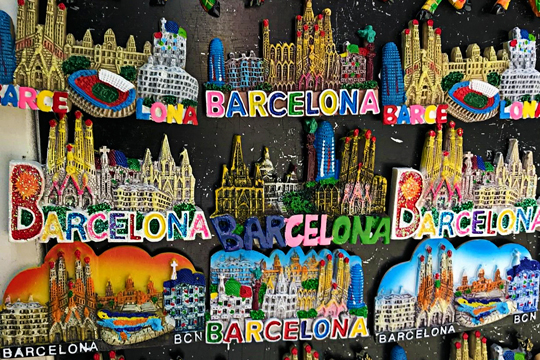 Tourism in Barcelona is a huge source of income, but a challenge as well. Credit: Karsten Kurowski
While the research defines different types of tourism very precisely, Barcelona's residents tend to lump all visitors into one group. "Tourism kills the city" can be read on stickers on lampposts. The design is a skull and crossbones featuring two selfie sticks. And during demonstrations, protesters carry signs in Catalan denouncing tourism as the death of certain quarters of the city. Barcelona has actually witnessed massive growth in visitor numbers since 1990. Back then, 1.7 million people visited the city annually, while in 2017, that figure had jumped to all of 32 million. For a city with 1.6 million residents, that's not only a huge source of income, but a challenge as well. "The starting shot for the tourist boom came in 1992," says Prof. Dr. Tim Freytag of the Institute of Environmental Social Sciences and Geography of the University of Freiburg. Alongside a member of his team, Clara Sofie Kramer, he did a study on touristification in Barcelona in the summer semester of 2019 with students from the Geography of Global Change Master's program. Freytag says, however, that before the 1992 Olympic Games the city was already undergoing transformation, and gentrification was already taking place even ahead of that. The areas experiencing the greatest changes were, above all, former industrial areas such as the neighborhood around the port.
New Trend: New Urban Tourism
Tourism contributed to this process to some extent. The city is equally a destination for mass tourism – especially around Sagrada Família, Park Güell, and what is known as the Gothic Quarter – and also for day-trippers who come in on cruise ships, as well as those doing "new urban tourism." According to Freytag, those are tourists who are less interested in classic sights than everyday life in a respective city. They tend to stay in cities' residential neighborhoods to get the most authentic feel of the place possible. The researcher from Freiburg says that new urban tourism would not be conceivable if there weren't any cheap flights and lodging platforms like Airbnb.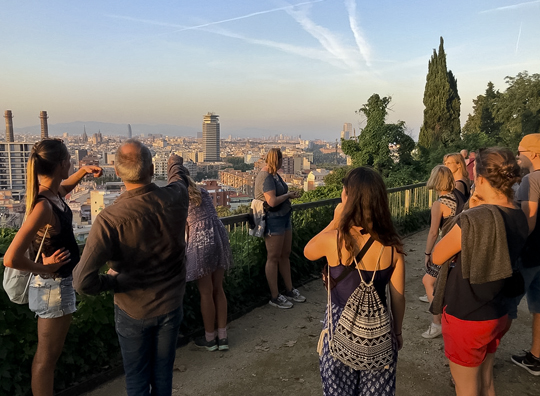 Visit to the Poble Sec district: The students were able to conduct research in Barcelona thanks to the support of Alumni Freiburg and Freiburg's Friends of the University Association. Credit: Karsten Kurowski
Crossmedial Work
What some call touristification, others describe as an engine of economic growth. The twenty students experienced the two different extremes first hand when they spent twelve days in Barcelona doing their field work. Alumni Freiburg and Freiburg's Friends of the University Association took part in financing their stay in the city. Field research like this is a routine activity for geographers. Yet the students were nevertheless unfamiliar with using different media – working crossmedially – as they did their research in Barcelona and presented their results. That's why journalist Karsten Kurowski gave a helping hand in preparing them for their stay in Barcelona.
Web presence features study results
At the same time as the presentation "reflectingBARCELONAtourism" was introduced in November 2019; a homepage with the same name www.reflectingbarcelonatourism.geographie.uni-freiburg.de went online. It describes in German the neighborhoods of El Born, El Raval, La Barceloneta, and Poble Sec, as well as Vila de Gràcia in English. Freytag says that in contrast to conventional degree theses, in this case, communication was emphasized. The professor's impression that his students had great affinity to photographs and videos was confirmed along with their ability to familiarize themselves quickly with journalistic media, carry out interviews and surveys, and to film and take photographs. Katharina Agena, a student who examined the El Raval neighborhood along with three others, says the camera sharpens the sense for detail.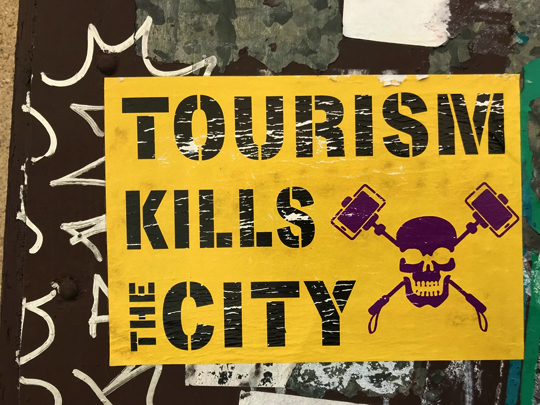 The inhabitants of the Catalan city are now protesting against the increased number of guests. Credit: Karsten Kurowski
Loss of identity
Though the areas may differ in character ‒ in the former working class neighborhood of El Raval, for example, crime, prostitution, and drugs were dominant, whereas fishing shaped La Barceloneta – the students used similar approaches wherever they worked. They spoke to neighborhood associations, residents, and tourists. The main issues were always a neighborhood's loss of identity and gentrification. La Barceloneta's beach and many discos mean that noise and litter in particular, are major nuisances. Holiday flats are driving up rents, displacing the less affluent. Alina Grebe and Tobias Hertrich and their group found that of the seven thousand flats in the quarter, one thousand are Airbnb holiday lets and less than ten percent of the operators pay taxes and fees.
One paradox that confronted the students was that the photographs they took could have come from a travel blog. "It's a thin line," says Freytag. "On the one hand, we value aesthetically appealing images; yet on the other, we would like the viewers to reflect on tourism and their own travel behavior." Another contradiction was that most students in the five groups stayed in Airbnb flats after initially staying in a hostel together. The third paradox was that many of the students sympathized with the demonstrators protesting mass tourism and as a result came into conflict with their own role as foreign visitors to the city. Naturally, tourism in Barcelona makes a significant contribution to the local economy. Yet the question remains: Which form of tourism is desirable?
Annette Hoffmann