Giving the University Something Back
For 20 years, the alumni association has been ensuring that former students around the world stay in touch with their alma mater
Freiburg, Jan 29, 2018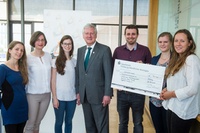 Photo: Klaus Polkowski
On a trip to the USA, Rudolf-Werner Dreier, director of the University of Freiburg's Office of Public Relations, was impressed by the close contact leading universities maintain with their former students and by the great commitment of the alumni to their alma mater. His wish to transplant this idea to Germany led initially to an alumni plan and ultimately, in 1996, to the establishment of a university-wide alumni organization. The subsequently founded booster association Alumni Freiburg e.V. is celebrating its 20th anniversary in 2018. Rudolf-Werner Dreier recalls the beginnings of the association and also takes a look at the future in an interview with Verena Adt.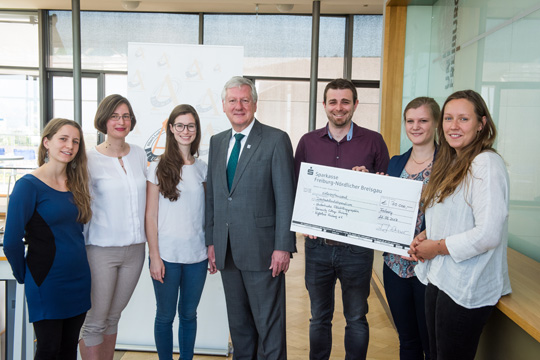 Hans-Jochen Schiewer is handing over a check to representatives of student projects who have received funding – the alumni association collected a total of €70,000.
Photo: Klaus Polkowski
Mr. Dreier, where did the idea for founding the booster association come from?
Rudolf-Werner Dreier: When I had the opportunity to visit several renowned universities in 1991 – Harvard, Berkeley, Yale, and universities in Chicago and New York – I was very interested in the alumni work being done at these institutions. I brought back home the basic idea of universities maintaining close contact with their former students and alumni giving something back to their university and then used it to develop my own concept for the University of Freiburg.
Were there German universities that already had alumni associations at the time?
No. Even the term "alumni" was more or less unknown and was established by us here in Germany. The idea of cultivating a bond with former students and also getting them involved in supporting the university had not yet taken root in Germany. Together with then rector Prof. Dr. Wolfgang Jäger, we founded what was probably the first alumni organization for a full university in 1996. Dr. Cornelia Staeves helped me set it up and is still with us today as head of the Alumni Department. The important thing for us was that the association should be set up to be international from the beginning. The first alumni clubs had already been founded in Japan and South Korea. A key point is that the rector of our university, Prof. Dr. Hans-Jochen Schiewer, is very committed to the alumni idea and passes this enthusiasm on to our alumni in Germany and abroad.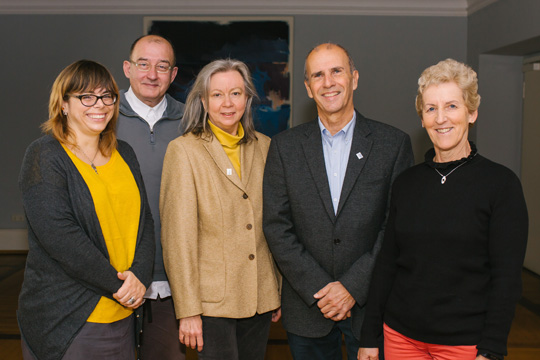 A small but dedicated team: Diana Sack, Martin Gutry, Cornelia Staeves, Rudolf-Werner Dreier, Ilona Schmidt (from left).
Photo: Sandra Meyndt
What was the main goal in founding the association?
Our goal at the beginning was "friendraising," not fundraising – meaning that we wanted to make friends first and only ask for donations later. And it worked! Membership in the booster association increased rapidly. We want to create a bond – first by means of information, such as with a newsletter, a blog, and social media, and then through the regional and international clubs and also our biennial alumni meetings in Freiburg. We invite all of our former students to a weekend reunion at their old university and organize an attractive program for them with around 50 events.
How many members does the association have today?
It is necessary to make a distinction: First there is the alumni organization run by our Alumni Department, which includes all former students who have studied here for at least one semester. That is currently around 250,000 people, and we have managed to get 120,000 of them on our database to date. Then there is the booster association Alumni Freiburg e.V., where former students are involved more closely. They pay an annual membership fee of 55 euros and provide active support to the university and its students. It has around 2000 members. More generally, however, anyone who speaks positively of the University of Freiburg and supports it is important for us.
How, in concrete terms, are the alumni organized?
We now have 18 clubs around the world. Some of them are nationwide clubs, like those in Korea, Japan, USA, and Cameroon. The German clubs are generally established at the level of states. Some cities also have their own chapter – referred to as a "Stammtisch" in German. In addition, every alumna and every alumnus can be a ambassador for the university in her or his country. There are former Freiburg students in practically every country on earth – even in Greenland and Vatican City. In New York we established an office three years ago, which is developing rapidly. For work at the clubs, much depends on the personal involvement of the people who act as their driving force. We have highly motivated and active club presidents who organize wonderful programs of events.
What are alumni donations used for – and how much do alumni donate?
We receive around 150,000 euros in donations per year. If we also include individual donations by alumni that go directly to the university rather than to the association, the annual donations now amount to several million euros. That is of course not comparable with the amounts raised in the USA, but for us every euro counts, and so does every volunteer! The donations are used to support a wide range of projects. For example, alumni donations have gone to projects like the renovation of the Peterhof and the Uniseum or the construction of an alumni pavilion to serve as a classroom for the University House on Schauinsland. Moreover, the university's day care centers have also benefited from alumni donations, as have student initiatives for refugees or cultural student groups.
Playground: The alumni association supports daycare centers at the University of Freiburg.
Photo: Patrick Seeger
And how does the booster association help current students?
Mainly with the "Deutschlandstipendium" scholarship program, which has been met with a very positive response among our former students, and through a co-financing of individual projects. Plus, we award the "Alumni Prize for Student Involvement" each year. In addition, we support the faculty graduate ceremonies through alumni prizes for the best degree theses and a very popular information stand where the graduates can have their photograph taken in a gown and with their diploma in hand. In the future we also plan to develop a mentoring system in which alumni serve as a coach to individual students. It will take a lot of work to bring together suitable mentoring pairs. Still, it is very fulfilling for me to see these people getting involved and this network thriving. We accomplish this with a very small and committed team that is passionate about this task.
Alumni Freiburg e.V.

The booster association Alumni Freiburg e.V. was founded in 1998 and has more than 2,000 members worldwide. The chairman of the association's board of directors is Rector Prof. Dr. Hans-Jochen Schiewer. His deputy is Dr. Dorothea Rüland, Alumna and Secretary General of the DAAD (German Academic Exchange Service). The managing director is Rudolf-Werner Dreier.