Become a member of the "Young Academy"
The Freiburg Institute for Advanced Studies is looking for young talent in sustainability research
Freiburg, Jun 24, 2021
The interdisciplinary "Young Academy for Sustainability Research" is aiming to bring young talent together. The Academy will begin its work starting in October 2021. The Freiburg Institute for Advanced Studies (FRIAS) invites applications for up to twelve two-year memberships for the period October 1, 2021, through September 30, 2023. Interested postdocs are eligible to apply until July 11.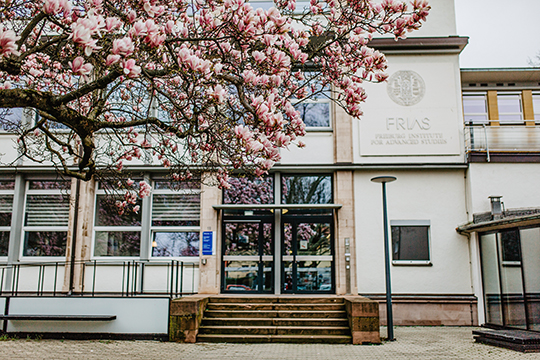 The Freiburg Institute for Advanced Studies (FRIAS) offers young scientists up to twelve two-year memberships.Photo: Sandra Meyndt
The Young Academy at FRIAS is designed to further strengthen sustainability research at the University of Freiburg, to make it even more visible nationally and internationally, and to help shape its content. "A Young Academy stands for interdisciplinary research and international networking - just like an Institute for Advanced Studies – it's a perfect fit," says FRIAS Director Prof. Dr. Bernd Kortmann. The Young Academy for Sustainability Research complements the many activities in this research area united by the University field of "Environment and Sustainability." In addition to the Faculty of Environment and Natural Resources, many other disciplines spanning from the humanities and social sciences to technology and engineering are involved with it.
Both Freiburg-based as well as national and international postdocs can apply for the two-year membership until July 11. Six of the memberships will be awarded to applicants from Freiburg. Requirements for application are one to six years of postdoctoral experience, a strong interest in interdisciplinary research, and outstanding initial scientific achievements in sustainability research. In the first two years, the Academy will focus its work on understanding and managing sustainable energy transitions as well as green infrastructures in socio-ecological systems.
Funding through the Eva Mayr-Stihl Foundation
Membership in the Academy enables scientists to pursue joint projects with international colleagues and to build a network in the field of sustainability research. FRIAS provides organizational support and, thanks to funding from the Eva Mayr-Stihl Foundation, provides generous financial resources, for example for joint publications or conferences. In addition, Young Academy members have the opportunity to work as guest researchers in Freiburg for four to twelve weeks.
Pascal Lienhard
Eva Mayr-Stihl Foundation

The Eva Mayr-Stihl Foundation was established in 1986 by Eva Mayr-Stihl and her husband Robert Mayr. One of the focal points of the foundation's work is the promotion of science and research. At the University of Freiburg, it has significantly promoted the strategic development of today's field of environment and sustainability since the 1990s, in particular through endowed and named professorships, prizes and research funding, initially at the Faculty of Environment and Natural Resources, and later additionally at the Department of Sustainable Systems Engineering (INATECH) in the Faculty of Engineering. The University of Freiburg has awarded Eva Mayr-Stihl and Robert Mayr the distinction of honorary senator for their special contribution to the University's positive development.

www.eva-mayr-stihl-stiftung.de
Freiburg Institute for Advanced Studies

The Freiburg Institute for Advanced Studies (FRIAS) is the international research college of the University of Freiburg. It combines humanities and social sciences, medicine, natural sciences, life sciences and engineering under one roof. The Institute's goal is to promote cutting-edge research. FRIAS provides scientists with a space in which they can concentrate freely and creatively on their research - individually or in teams. To this end, it offers around 60 funded research stays (fellowships) each year for researchers from all disciplines from Freiburg and around the world.

Freiburg Institute for Advanced Studies
Interview with FRIAS Director Bernd Kortmann about the Young Academy