"Launchpad" promotes young researchers
The Cluster of Excellence CIBSS offers a funding program to postdocs for independent research
Freiburg, Sep 30, 2020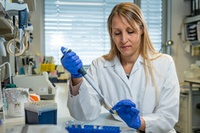 After the doctorate many researchers experience a kind of probationary period, which can last for several years. Questions arise such as: Will I be successful in defining my own area of expertise and being persuasive in grant applications? This type of independence is an important step on the way to a professorship. Therefore, the Cluster of Excellence CIBSS - Centre for Integrative Biological Signalling Studies at the University of Freiburg supports postdoctoral students on their way to scientific independence with the "CIBSS Launchpad Programme." The program was launched in the fall of 2019 as the Cluster's central promotion for young researchers. The funding and mentoring programs offer a head start at the beginning of an academic career.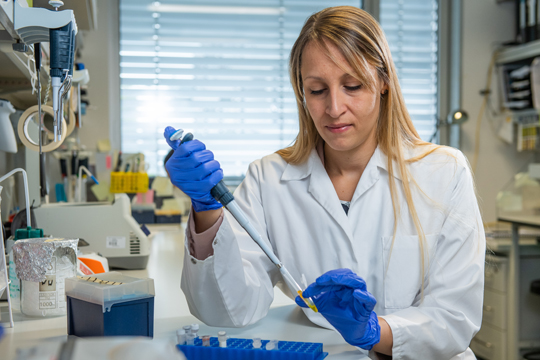 Funded research: Hanna Wagner studies viruses in order to make them useful for breast cancer treatment. Photo: Klaus Polkowski 
Developing a new gene therapy against breast cancer sounds like an ambitious goal. But even big projects start small. And Dr. Hanna Wagner's project actually began during her studies. During the course of the student competition "International Genetically Engineered Machine" (iGEM), she developed her first ideas in the research field. She has now received funding for her work. "I want to make harmless adeno-associated viruses usable for breast cancer treatment. I had the idea in my back of my mind the whole time," explains the biologist, who has a doctorate in biology and works in Prof. Dr. Wilfried Weber's research group. "Getting my own funding for this is great feedback for me and a sign that I am on the right track with my work." As one of three researchers at the CIBSS Cluster of Excellence, she was selected for the "Launchpad Research Funds" funding in 2020 and will now receive a total of 24,000 euros for a year and a half. She will also be freed from her work in her supervisor's laboratory once a week.
A long road to one's own research group
Should I keep trying my luck in academia, or should I switch to business? It is a question that many newly-qualified PhDs ask themselves. About 30,000 students are awarded their doctorates in Germany every year, but only about 3,000 are given the opportunity to habilitate, found a junior research group, or take on a junior professorship. Their time for doing so is limited. For a total of twelve years, including the time during the doctorate, they are usually allowed to continue working at the universities via budget funds before they have to reach the next step in their career - the call for a professorship or a position as head of research at an institute.
Postdoctoral researchers who want to continue their work at universities first take up a so-called postdoctoral position. As members of established research groups, they are given the opportunity by their group leader to conduct research on proven projects.
As a postdoctoral fellow, Wagner initially continued working in the research group in which she had completed her dissertation. Up to now, her research has focused on the development of materials with new properties that react interactively thanks to methods from Synthetic Biology. These materials can, for example, help to detect certain substances and convert them into a visual output signal - such as biohybrid polymer systems that can precisely measure antibiotics or the activity of bacterial toxins. Wagner will now devote some of her time to gene therapy: "There are some funding programs that help you plan your career, but you have to take matters into your own hands." Maximilian Hörner, who works in a laboratory with Wagner and also receives the funding, agrees with her , adding: "If you have a good supervisor, it helps immensely." In addition to the "Launchpad Research Funds," to which postdocs can apply, the program also offers the opportunity for exchange and supports researchers in realizing their career goals.
Career flight plan
"Our aim is to make it clear to participants where they stand and where they want to go," explains program coordinator Dr. Anne Liefländer. "In exchanges with mentors and in workshops, the participants are to be given the tools they need to be successful with their own research. These kinds of things are not written in any textbook." According to Liefländer, leadership skills, strategic planning, creativity and good student support are the key to success. "At the moment we meet regularly in a virtual coffee break," explains Liefländer. The mentors, who are experienced scientists from the cluster, give the members of the Launchpad program tips in regular meetings. Together with them, the participants draw up a so-called career flight plan, which is designed to help them recognize their opportunities and work towards them.
"The steps I have to take in order to obtain a group leader position myself are now clearer to me, which is very encouraging," explains biochemist Evgeny Mymrikov, who conducts research on membrane proteins in Prof. Dr. Carola Hunte's laboratory and is the third young researcher to receive this year's "Launchpad Research Funds." Together with the Robotics Facility of CIBSS, which offers automated laboratory procedures, Mymrikov hopes to use these funds to further develop and apply a biochemical method intended to help find new molecules to control cellular signals. The method is intended to make it easier for researchers to control the functions of signaling proteins and allow them to control processes within cells. The exchange with his colleagues also makes life and work in a foreign country easier for Mymrikov. "I came to Germany from Russia after completing my doctoral thesis. A lot of things are different here, and that's something you first have to learn," he says. He has been in the postdoctoral phase since 2013 and now hopes to make the leap to group leader and his own research group with the support of CIBSS.
The Launchpad Programme is aimed at all postdoctoral students working in the field of biological signaling research at a CIBSS member. "I am looking forward to new participants for 2021 who want to advance their career with the help of the program," says Liefländer.
Mathilde Bessert-Nettelbeck
CIBSS – Centre for Integrative Biological Signalling Studies
Information about the "Launchpad Programme"